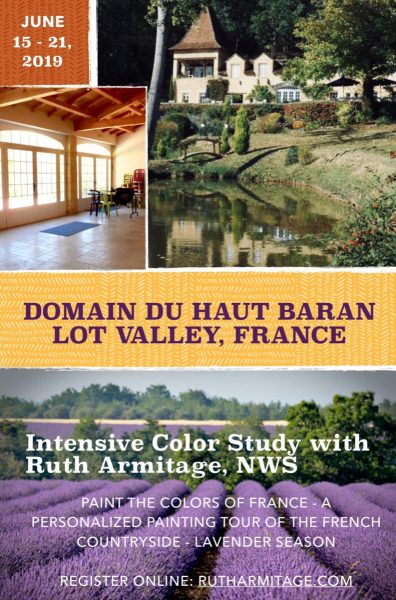 Click below to download the registration form. Print and mail the completed form, along with your deposit to William Haas: PO Box 337, North Bend, OH 45052
Domaine du Haut Baran Registration Form PDF
Before you arrive
Everyone needs a valid passport!
1. To contact William or Rosalie at Haut Baran please email us at : hautbaranfrance@gmail.com or click onto our website at : www.hautbaran.com . Only a signed registration form and deposit can secure your space!
2. ATM access is everywhere and is the best way to obtain cash at the best rate. Notify your credit card company and/or bank that you are traveling to France and verify your 4 digit PIN code for ATM access.
3. Visa and MasterCard are accepted everywhere. American Express is not. Bring more than one card and notify your card company you are traveling to France. Small shops and the farmers market are cash only!
4. The Domaine du Haut Baran does not accept credit cards. Your trip must be prepaid by check with a mailing address in the States. See registration form.
5. Everyone signing up for a workshop at Haut Baran must fill out/sign the Haut Baran registration form, mailing the form with deposit to our address in the USA to secure your spot ! The Haut Baran registration form has all the information you need to sign up now.
6. The Haut Baran has free WiFi internet access so bring those I-pads, laptops or I-phones.
7. Laundry services are available ( 10 euros to wash and 10 euros to dry ).
8. Dress for restaurants is casual and all restaurants accept Visa/MasterCard.
9. The artist studio, easels, stools, tables, paper towels and clean-up chemicals are
available for your use.
10. The electric current is 220 volts, 50 Hz AC. To use American devices in France
you will need a plug adaptor and/or transformer.
11. Bon Voyage ! Please email your flight information 90 days prior to your arrival date. If you have any problems making your flight connections please email us ASAP or call us in France at ( 0565246324 ) home line or ( 0679114250 ) portable line. See you on arrival day at 2:30pm in front of the Information desk on arrival level at Toulouse Blagnac Airport .