How does one choose the best brush for watercolor, acrylic and oil painting? My process is one of trial and error, tempered with education. I frequently get questions about my brushes. I have a large collection: some vintage, some for watercolor, some for acrylic and oil painting. It is my opinion that one can never have too many!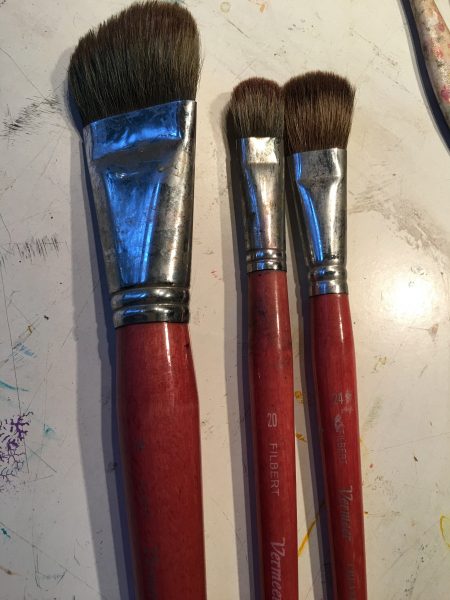 These filbert brushes by Vermeer were a discovery made by my friend Ruth Ellen Hoag. Although they are quite soft, they have a surprising amount of body and carry a lot of pigment. I love them for watercolor.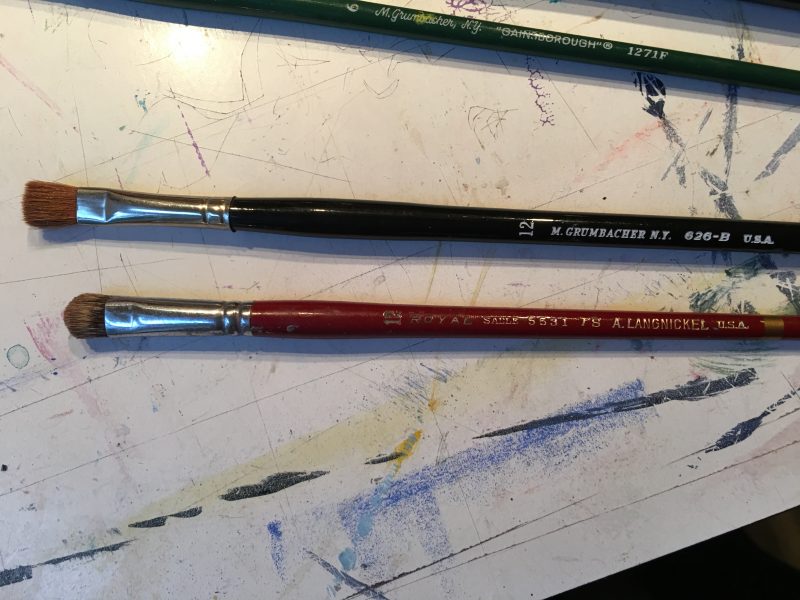 These are some of my vintage brushes. I love how stiff the Langnickel sable is. It is great for scrubbing and scumbling. I use these for all three media: watercolor, acrylic and oil.
These are some boar bristle brushes that I use for acrylic and oil. The large Princeton in the middle is newer and the other two are vintage.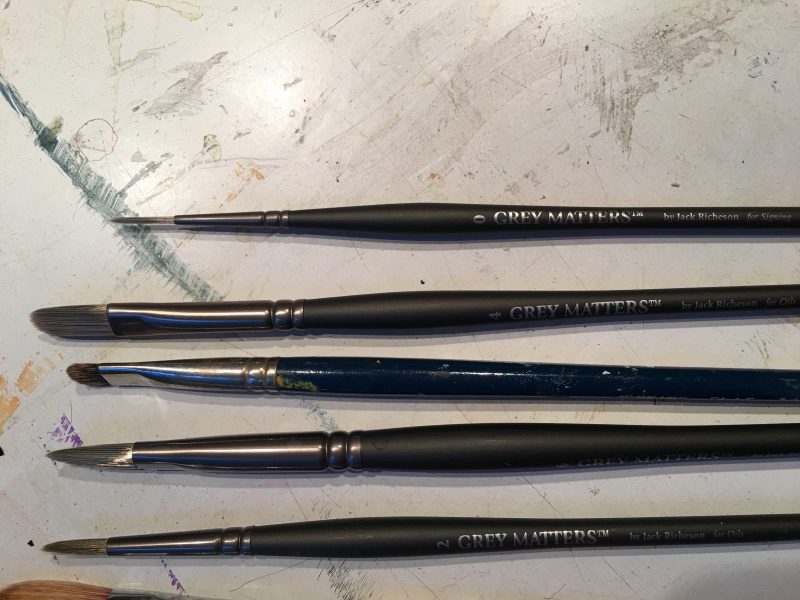 These Grey Matters Brushes are made by Richeson. They are synthetic and great for acrylic and oil.
A selection of sables for watercolor. Kolinsky sable is the best, but it can be difficult to find now in the US.  From top to bottom: Connoisseur, Daniel Smith Autograph series, DaVinci Maestro and Escoda. You'll notice that all but the 3rd one down are #10 rounds. DaVinci's #8 and Escoda's # 10 are about the same size! Size really varies by brand. The Daniel Smith brush has been around for a very long time. I've pretty much worn off the point, but it is still a favorite for the way it delivers the watercolor.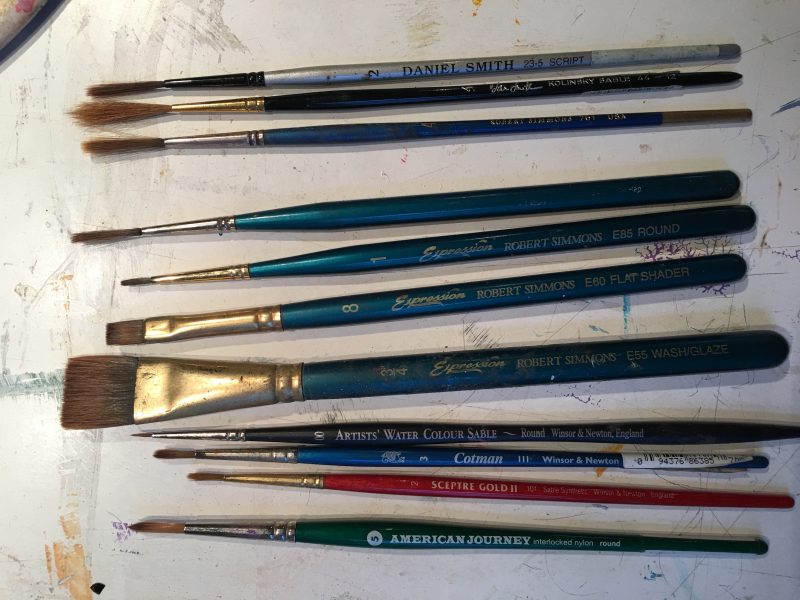 Most of the brushes above are synthetic. I rarely use these for anything besides watercolor or fluid acrylic. Notice the top four brushes have longer bristles. These are called 'liners' or 'riggers' and are used to create long, fluid line work.
Above are some of my flats, with the exception of the filbert on the far right. I like these for watercolor. The Daniel Smith filbert on the right is a favorite! Notice how dirty it is…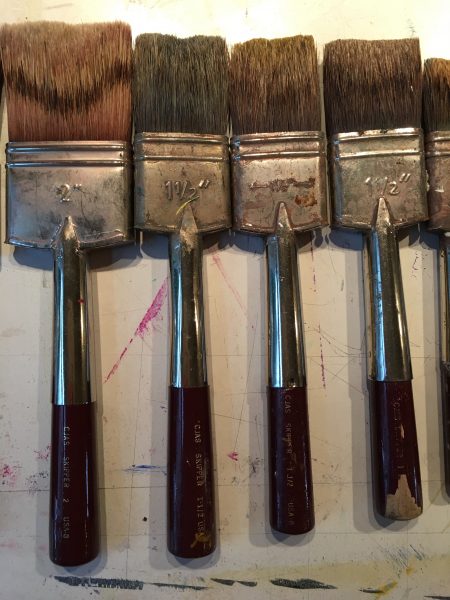 Pictured above are some of my "Skipper" brushes, available through Cheap Joe's. These are the real work-horses in my studio. They are named for one of my favorite instructors, Skip Lawrence. They are useful for all media, and have a lot of body. You'll notice that the three on the right are more worn than the largest one. I hope to remedy that soon.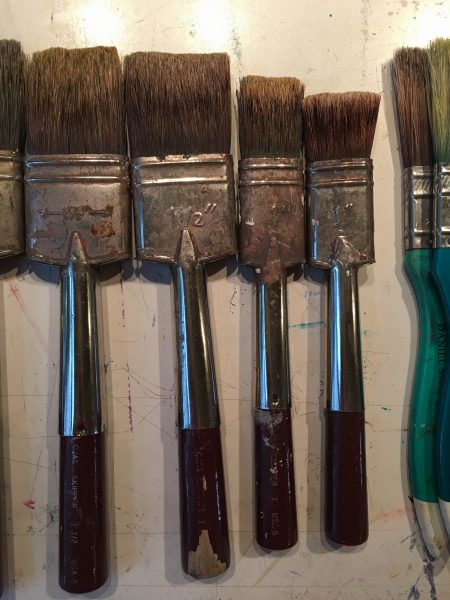 The 1″ Skipper on the right is the one I've had longest. The bristles used to be as long, or longer than the bristles of the brushes on the left. I wore it down by painting!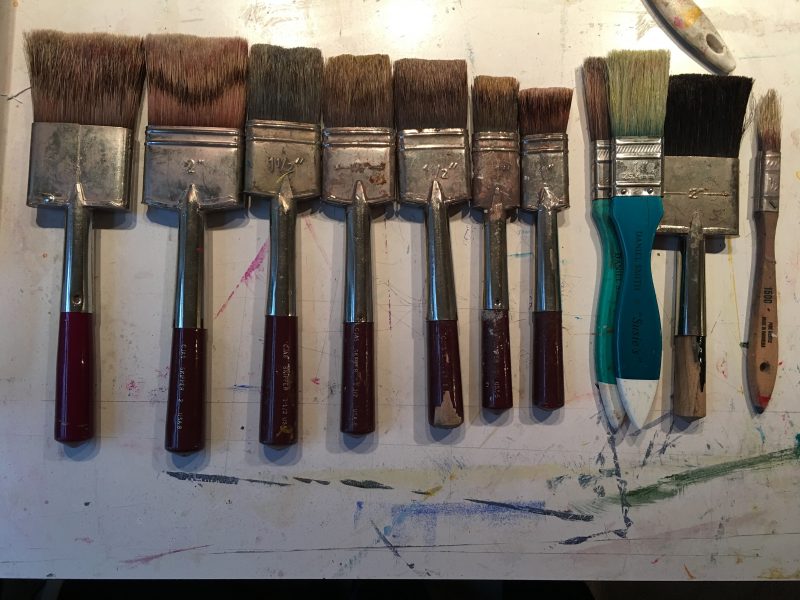 At the far right you'll see a few brushes that are sort of comparable to the Skipper. Two "Susie's" by Daniel Smith, and a "Muslin" brush, also available at Cheap Joe's. And the last, wimpy little brush is just a hardware store cheap-0 brush. It has its uses too.
I only have one, but I love this mop style brush by Princeton. It has a big 'belly' for water and paint, and a very fine point. These come in squirrel, but I think this one is synthetic.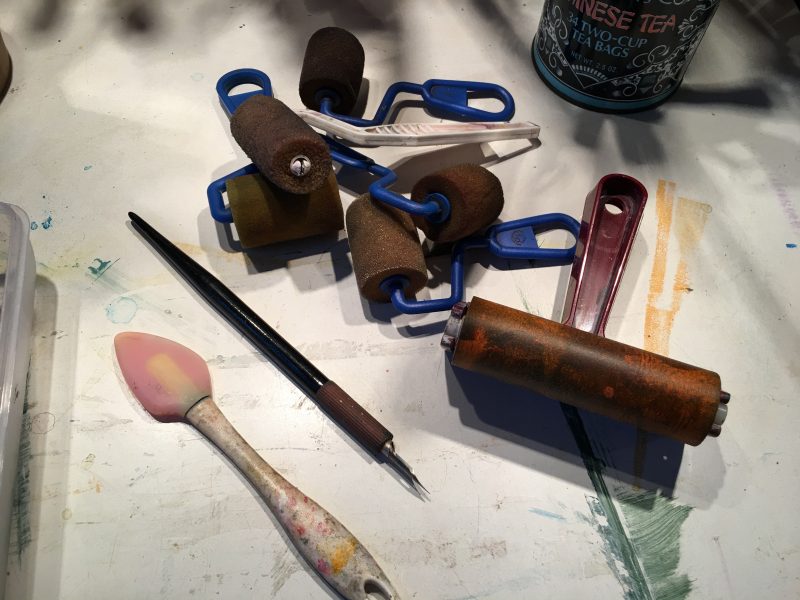 I also use these: a silicone spatula for wiping out line, a dip pen, sponge rollers and a soft rubber brayer. The brayer is most useful for acrylic and oil.
Here is how I store my tools in the studio: The red cups on the rack are from Ikea.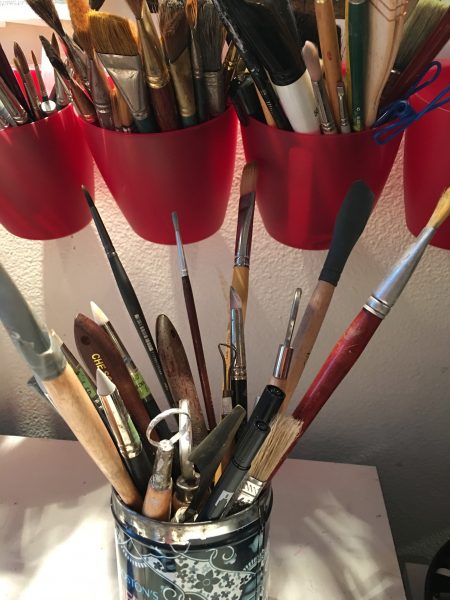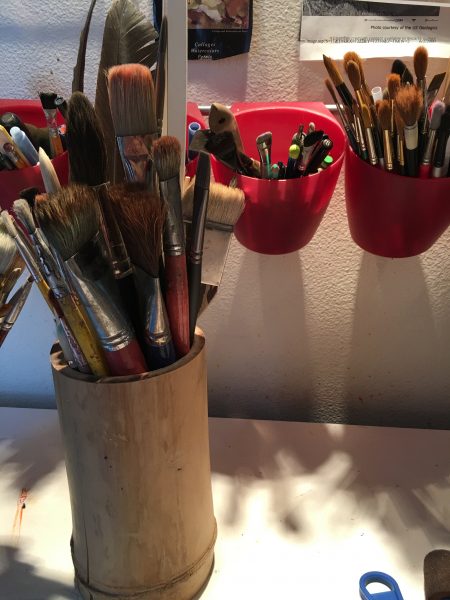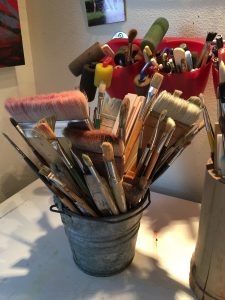 I hope you've enjoyed this peek into my brush collection! What is your favorite brush, and for which medium? I'm always on the lookout for new types of brushes.