October 15, 16 & 17 , 2018
Cold Wax and Oil Workshop, Oregon City, Oregon
Register Today – Limited Space! $350 tuition includes 4 painting panels
Revel in texture and color in this workshop exploring the properties of Cold Wax Medium. If you've been hesitant to get into oil painting because of the slow drying time, this class will teach you a different tune. No fuss cleanup, little odor and layering magic will seduce participants.
Join Ruth Armitage for a workshop inspired by nature, but leaning toward the abstract using cold wax medium along with oil paints. Learn how to create your own medium, layer opaque and transparent pigments, incise, build up and more.
Participants will work on multiple wood panels over the course of the workshop, culminating in several finished pieces. Techniques will include different types of paint application, reductive and layering techniques, mark making, shape, color and texture galore.  Pre-planning and intuition will work hand-in-hand to lead artists to creative compositions.
An open and adventurous attitude and imagination are the only pre-requisites.
Click here for supply list.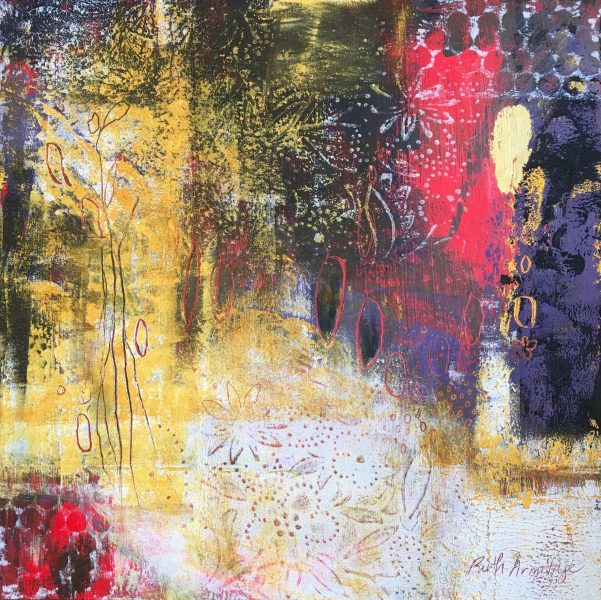 "Summer Breeze" ©Ruth Armitage, Oil & Wax on Panel 12″x12″ $235 SOLD
Ruth is a popular instructor and her classes fill quickly. Class size limited to 8.
Don't miss out, register today! Complete the form below, then mail your tuition check for $350.00 to:
Ruth Armitage
21288 S Leland Rd.
Oregon City, OR 97045