Anything can happen at an art workshop!
I'm recently returned from teaching a week-long class for Creative Arts Community at Menucha Retreat Center in Corbett, OR. It was so rewarding to watch each student explore and grow in their personal expression.
One of the main ideas I tried to emphasize was that the more artists explore personal subject matter, the more universal their work becomes.
Folks painted everything from their garden, to memories of trail-riding, to expressions of family relationships. What really thrilled me was when an artist took their first idea, turned it on its head and tried something new with their image.
It's amazing how radically work can change when the creative flow gets started: anything can happen!
We also had a great time in the evenings. Each night at camp, instructors and students give presenations relating to their art. I particpipated in a panel discussion led by board member and fellow instructor, Carolyn Hazel Drake. Carolyn is the master of the insightful question.
We had no idea what she might ask us! Anything could happen! One particularly interesting question for me was: "What helps you recover from the inevitable disappointments or rejections in your art career?"
My answer: my pets! They always think I'm the greatest… even when I leave them for extended periods or reprimand them.
After dinner on Wednesday we had a crazy time – A Murder Mystery set in the Wild West. It was so great to see people's creativity happen in an ad-lib situation. Costumes were creative, too! I especially loved the costumes of the women who played mens' roles.
Looking Ahead:
I've been planning and submitting new workshops for the coming months and year. Reading feedback and evaluations from this summer's workshops has been a big help. I love the planning process, challenging though it may be.
One of my favorite comments from our France trip was that the workshop had a tone of 'joy and ease.' That is always my hope. I want to create an atmosphere where anything can happen. While I love creating stimulating creativity starters and exercises, I want the tone to allow for students to ask anything, try anything and risk everything!
Join the discussion: what have you seen instructors do to foster this type of atmosphere in an art workshop?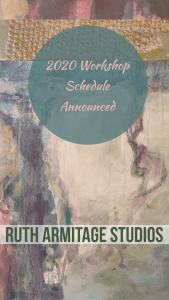 Don't miss an upcoming workshop! Register today here.