"I loved our trip in so many ways and really, really thank you for wondrous instruction and for setting such a tone of joy and ease."

– Leslie, participant 2019

"The trip with the art group to southern France was wonderful! It was a highlight in my life!
I am so happy I got to go! I never thought I'd get to go to Europe, and it was a fantastic way to do it!
Thank you for making that workshop available!"

-Cindy, participant 2019
If you're like me, when you plan a trip to a foreign country you would like to avoid following the masses of folks who get all their information from a guide book. You'd like to sample a taste of what residents of the area do for fun, get to know a bit of history, and dine in out-of-the-way bistros without having to struggle over a menu.
But language can be a barrier. And how were you to know that yesterday was a special music festival (antique fair, farmer's market, etc.) in that little village? If only you'd had a bit of inside knowledge! And what is the best time to visit that can't-miss-it attraction? Where might you stop to eat? What are the best plein-air painting locations?
I planned this trip because a good friend recommended the Domaine du Haut Baran as the best place she'd ever taught a workshop! The Lot Valley and Perigord region of Southwest France boasts prehistoric cave art, gourmet cuisine, rolling farmland with lazy rivers, Bastide towns, hilltop villages, vineyards, antique shops, troglodyte dwellings, castles and much more. Besides the stunning location and studio, the wealth of interesting sights and tastes, one thing stood out for her. Our hosts: William & Rosalie Haas.
The focus of their business is hosting art, biking and food tours, along with the occasional family reunion. The Chateau boasts seven suites, each with its own bath. Spectacular valley views and manicured gardens flank a pristine swimming pool and veranda.
Rosalie comes to the project with years of restaurant and interior design experience in Ohio. Her meals are a highlight of the trip, and the furnishings of the Haut Baran show her artistic flair.
William grew up spending summers with the French side of his family in this area. He has an encyclopedic knowledge of the language, culture and history of the region. His casual, friendly attitude makes it a joy to listen to his descriptions of everything from current local neighbors who collect gypsy wagons to Richard the Lionhearted.
William also organizes our dining experiences: translating the menus and keeping track of expenses so each participant pays only their share. His knowledge of painting locations is stellar, and he's always on the lookout for new ones. Each tour is customized to the group including special requests when possible, and tailored to local weather and events.
What about the weather? One does sometimes worry about that when working Plein-air. If downpours are predicted, the Haut Baran has a wonderful, spacious studio where we can work from reference photos. It's even air-conditioned. You'll be provided with French-style easels and portable stools for location painting. The only thing to bring are your clothes and paints.
Because of William and Rosalie, the week I spent at Haut Baran last summer ranks in the top 2 of all the trips I've taken. I hope you'll decide to join us in 2021 and discover the magic of this picturesque region and our warm and gracious hosts.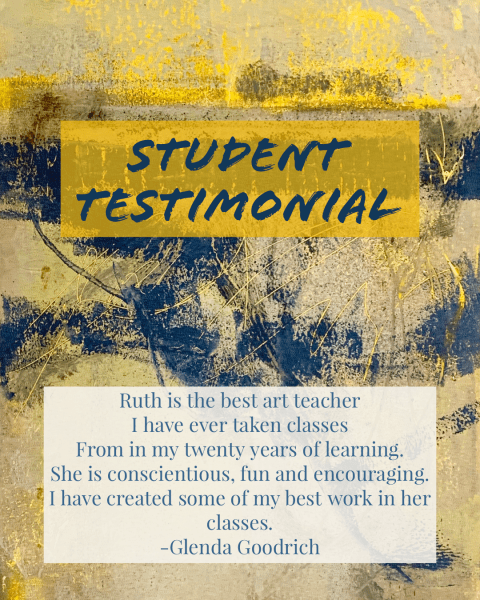 FAQ's
Q: What are room/bathrooms accommodations like? Are they shared rooms with individual baths or are bathrooms communal?
A: Thanks for asking! Each room has its own bath. Rooms are double occupancy unless you pay a single supplement.
Q:What is the cost of the single supplement?
A: The single supplement is $700.
Q: I would LOVE to do this. My husband would come along. We had a couple questions. First… Is the art cost included in this? Is the cave tour included?
A: Yes, the art instruction is included… use of easels, etc. All transportation is included, but admission to cultural sites (caves, etc) is not.
Q: We have never been to Europe before. If you have, could you give us an idea of what dinner costs at one of those restaurants, please?
A: During our last trip most restaurants average $35 – $45  USD for dinner, very similar to the US. Our guide, William, divides the bill so that your cost reflects your choices.
Q: Hi Ruth, oh my this looks terrific!!! Would we need to bring art supplies or will they be there already?
A: We bring our own paint, brushes and paper but easels and stools are provided. It's going to be fun
!
Q: How much time per day will be spent painting?
A: The only things that would take you away from painting would be a. Watching a demonstration, b. Travel time to various locations c. Touring sites like the Peche Merle Caves. That said, the day usually has some flex time for shopping for souvenirs and personal items.
Q: Is the workshop suitable for someone who has never painted with watercolors?
A: The workshop is appropriate for all levels. Class size will be very small, allowing for lots of individual attention. If you prefer to work in another medium, that is fine too.
Q: I am thinking of going on your France trip. I would like to locate the city we will be staying in. Could you please give me some other towns that are close to it. Is it in the northern or southern part of France?
A: Great! We'll be in the Southern part of France, nearest the village of Puy l'Eveque in the Dordogne region. I hope you can join us! The website for the chateau is
http://www.hautbaran.com/
. You can see it is very well appointed!
Q
: Is this being arranged as a group trip – leaving and returning to Portland together? I understand the flight is not included – do you recommend a specific airline? I've been to Europe several times, but never alone.
A: We are not arranging a group flight nor recommending an airline, but I can put you in touch with other participants if you want to find someone to travel on the flight with!
Sample Itinerary: October 6-12, departing 10/13/21
Day 1: Arrival day! We are met by our host, William, at Toulouse Blagnac Airport at 2:30 pm for transfer to Haut Baran. Settle in, unpack and relax at the pool before our welcome dinner at Haut Baran.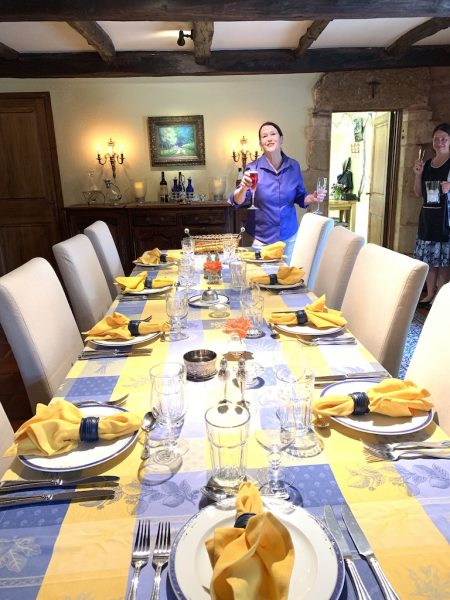 Day 2: Breakfast, 9:00 a.m. Orientation in the studio. Lunch at Haut Baran. Afternoon painting either in the studio or on location. Dinner is organized at a local restaurant.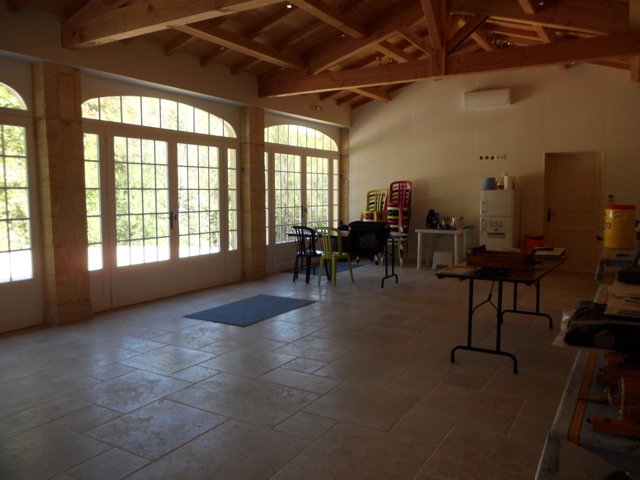 Day 3: Breakfast, 8:00 a.m. Depart at 9:00 a.m. for our painting site. (Sites will vary according to weather, local events, and instructor preference.) One possibility for today is Pont Valentre on the Lot River in Cahors. This evening dinner is at a local restaurant.
Day 4: Breakfast, 7:30 a.m. Depart at 8:00 a.m for Saint Cirq LaPopie and Pech Merle. (about 60 mins.) Saint Cirq LaPopie is voted most beautiful village in France! Lunch in Sain Cirq. After lunch we drive 15 mins to Pech Merle cave where we will see authentic prehistoric art over 29,000 years old! Dinner at Haut Baran.
Day 5: Breakfast, 8:00 a.m. Depart at 9:00 a.m. for our painting site at Le Caillau, a 17th Century farm clos. Lunch at Le Caillau. Return to Haut Baran for studio work after lunch. Dinner at a local restaurant.
Day 6: Breakfast, 8:00 a.m. Depart at 9:00 a.m. for Monpazier (about 30 mins.) Monpazier is a beautiful bastide town built by Edward 1st, the English King. Lunch in Monpazier. After lunch, we head back to the studio. Dinner tonight is pizza night!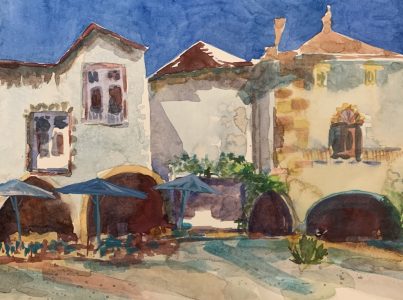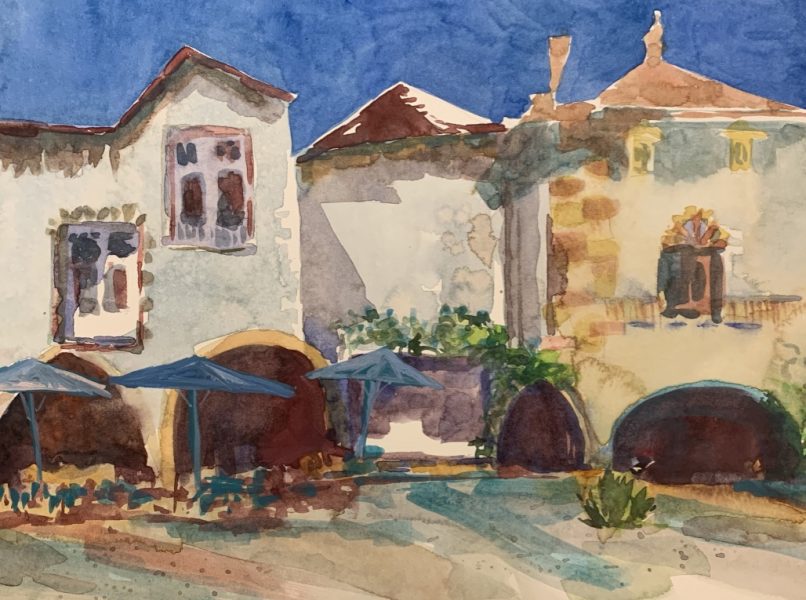 Sketch from Monpazier
Day 7: Breakfast, 8:00 a.m. After breakfast we travel to Domme for our morning painting site. A pique nique lunch is provided. We head back to the studio for finishing work and a critique. Farewell dinner tonight includes champagne!
Day 8: We depart Haut Baran at 6:00 a.m., arriving at Toulouse Blagnac Airport at 8:00 a.m., in time to check in for flights departing at 10:00 a.m.
What's Included?
Price – 3200 USD per artist, 3000 USD per non-artist
Six full days of instruction and critique in a small group of no more than 12 participants, with Ruth Armitage, NWS
7 nights at Domaine du Haut Baran (double occupancy), for a single supplement, add 700 USD
Transportation from/to Toulouse Blagnac Airport, which is the arrival and departure point. Airport transfers on arrival/departure day are based on everyone transferred at the same time. On arrival day we meet the group at the airport near the information desk, on the ground floor arrival level, at 2:30 pm for transfer to Haut Baran. On departure day everyone leaves Haut Baran at 6:00 a.m., arriving at Toulouse airport at 8:00 a.m. in time to check in for flights departing at 10:00 a.m.
Transportation to/from all painting sights, tour sights and restaurants. (Our host, William, organizes our evenings out for the best experience.)
Breakfast every morning (Continental style with croissants, fruit, coffee, etc.)
3 dinners included at Haut Baran (includes wine.)
2 lunches at Haut Baran
Use of our spacious, air-conditioned art studio, with French Julian easels, stools, tables
Professional Guide service by host William
All taxes and free WiFi
What is not included:
Airfare
Some meals, personal items, tips, phone calls, alcohol other than wine with dinner.
Travel Insurance (travel insurance is highly recommended and purchased by you.)
Join Us!
Our group will be limited to 12, including non-painters. Space is available on a first-come first-served basis.
Click below to download the registration form. Print and mail the completed form, along with your deposit to William Haas: PO Box 337, North Bend, OH 45052
Before you arrive
Everyone needs a valid passport!
1. To contact William or Rosalie at Haut Baran please email us at : hautbaranfrance@gmail.com or click onto our website at : www.hautbaran.com . Only a signed registration form and deposit can secure your space!
2. ATM access is everywhere and is the best way to obtain cash at the best rate. Notify your credit card company and/or bank that you are traveling to France and verify your 4 digit PIN code for ATM access.
3. Visa and MasterCard are accepted everywhere. American Express is not. Bring more than one card and notify your card company you are traveling to France. Small shops and the farmers market are cash only!
4. The Domaine du Haut Baran does not accept credit cards. Your trip must be prepaid by check with a mailing address in the States. See registration form.
5. Everyone signing up for a workshop at Haut Baran must fill out/sign the Haut Baran registration form, mailing the form with deposit to our address in the USA to secure your spot ! The Haut Baran registration form has all the information you need to sign up now.
6. The Haut Baran has free WiFi internet access so bring those I-pads, laptops or I-phones.
7. Laundry services are available ( 10 euros to wash and 10 euros to dry ).
8. Dress for restaurants is casual and all restaurants accept Visa/MasterCard.
9. The artist studio, easels, stools, tables, paper towels and clean-up chemicals are available for your use.
10. The electric current is 220 volts, 50 Hz AC. To use American devices in France you will need a plug adaptor and/or transformer.
11. Bon Voyage ! Please email your flight information 90 days prior to your arrival date. If you have any problems making your flight connections please email us ASAP or call us in France at ( 0565246324 ) home line or ( 0679114250 ) portable line. See you on arrival day at 2:30pm in front of the Information desk on arrival level at Toulouse Blagnac Airport .
Important Notes
The Haut Baran provides only one transfer included in your land package on arrival day from Toulouse Blagnac Airport to Haut Baran. We meet everyone on the ground level near the information desk at 2:30 pm for transfer to Haut Baran. Transfers other than the one provided with the land package are at extra cost (350 euros per transfer.)
What if you miss your flight or your flight has been delayed?
 Communicate delayed or missed flights ASAP by emailing us at hautbaranfrance@gmail.com or by calling us in France ( 0565246324 ) home or ( 0679114250 ) mobile. 
If your scheduled flight arrives at Toulouse Blagnac Airport by 2:30 pm we will wait for you to claim your luggage. Any missed or delayed flights past the 2:30 p.m. deadline will require transportation other than that included in the Haut Baran land package. If you are in a missed flight or delayed flight situation, possible solutions are:
The Haut Baran can schedule transportation ( 350 euros per transfer.)
Taxi from Toulouse Blagnac Airport to Haut Baran ( about 480 euros.)
From Toulouse Blagnac Airport you can take the shuttle (10 euros) to Toulouse Matabiau train station. From Toulouse Matabiau you can catch the next train (every hour) to Cahors Train station. We will pick you up from Cahors station for transfer to Haut Baran ( 100 euros.)
To avoid transfer problems, we recommend arriving a few days early to explore Toulouse and acclimate to French time zones before meeting us at Toulouse Airport on arrival day at 2:30 p.m. You can also extend your trip on the departure side of your stay. You would then spend a final night in Toulouse to allow for maximum flexibility with your departure time on the next day. 
The address of Haut Baran is: Domaine du Haut Baran – Lieu Dit Baran – 46700 Duravel – France.