Maui in November 2017! Painting in Paradise
November 6-10th, 2017 in Beautiful Lahaina on the Island of Maui
Limited to 12 Students. Class Full – Contact Ruth to Join Wait-List.
Join Ruth Armitage, NWS for a 5-day workshop, designed to inspire you with creative exercises, inviting surroundings and joyful camaraderie. $499 Class Fee.
You'll soak in color, fragrance and tropical breezes as we create using watercolor mixed with gouache (opaque pigment.)
Bring home more than a tan –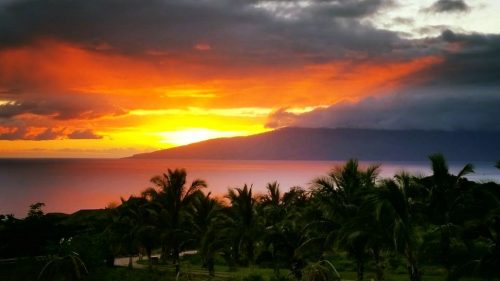 Make a memory!
You'll love Ruth's approach to creativity and abstraction. Get inspired by the beautiful surroundings, smells and sounds and create abstracted paintings that will evoke great memories.
The workshop will be held from Mon. – Fri. from 9:30 a.m. to 3 p.m., giving you time for a leisurely breakfast and walk in the morning, dinner and nightlife in the evening.
If you prefer to extend your stay before or after the workshop, hotel discounts will still apply.
Daily Lessons: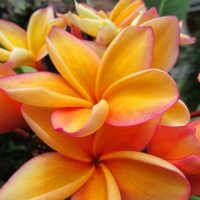 Tropical Waters – Color
Rocks & Waves – Line
Botanicals – Form
Sunset – Direction
Native Creatures – Pattern
Where to stay: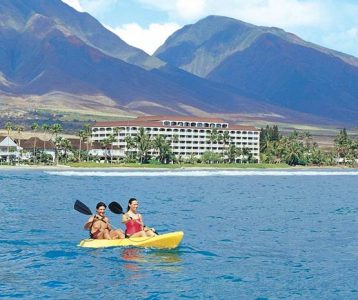 We have secured a very good rate at the Lahaina Shores Beach Resort,  the only beachfront condos in Lahaina, within an easy stroll of Lahaina Town. Oceanfront and mountain view condos feature a poolside barbecue gas grill, whirlpool, daily maid service, concierge and air conditioning. Guests will enjoy free wifi, full sized kitchens, laundry facilities and oversized lanais. Reservations available on a first-come, first-served basis.
Studio Mountain View with Full Kitchen – $139 per night
Studio Ocean Front with Full Kitchen – $159 per night
Studio Premier with Full Kitchen – $189 per night
Based on single/double occupancy and availability. No resort or cleaning fees. Parking $8 per night for rooms other than premier. Room tax of 13.416% per night not included
I came away with a multitude of ideas. I feel more confident in how I will approach my art. Ruth gave me the key to unlock my ideas and get them down on canvas and tools to go beyond the basic beginning. She is a gentle, effective teacher. She knows when to leave you alone and when to offer help."
Buff Holtman
Dear Ruth, Thank you, thank you for your remarkable presence – helping me solidify my direction and ideas – acceptance of my real self, giving me confidence and clarity. Your loving smile, laughter and ability are the ingredients of a powerful influence."
Lisa
Other Upcoming Workshops:
Still space available in these great classes:
July 30 – August 4, 2017 ABC's of Abstraction: Oil or Acrylic – Creative Arts Community: Menucha Retreat Center, Corbett, Oregon. Registration Available online April 1st, 2017 – Class Full
October 23 – 26, 2017 Abstracting from Nature: Menucha Retreat Center, Corbett, Oregon. Info and Registration here.
February 5-7, 2018 in Oregon City, Oregon: Ruth Ellen Hoag, AWS, NWS $325 Click here to register!
September 24-28, 2018 – ISEA Exhibition and Workshop, Newport, Oregon
October 18-21, 2018 – West Texas Watercolor Society, Lubbock, TX
Interested in a Workshop in Your Area?

I am available for jurying and workshops starting in 2018. Click the Contact button below to receive a packet with course description, work samples and testimonials.
Workshops generally span 3, 4 or 5 days and can be customized for your group. Please provide information about location and the needs of your group. I look forward to hearing from you!
Contact Ruth
I enjoyed your teaching style. Thank you for the very helpful critiques. I tried things I had never done before and left with concepts I know I can continue to work on."
Sue Anne Seckora
Ruth is a modest and approachable professional with lots of experience she is willing to share. My learning experience in this class was better due to several types of teaching methods—- personal art evaluations, teaching time, reference examples/materials and frequent desk critiques.
I left feeling excited and inspired about my art and a new approach to my creative process."
Jean
About the Instructor
Ruth Armitage is a signature member of the National Watercolor Society, the Northwest Watercolor Society, Rocky Mountain National Watermedia,  the California Watercolor Society and Past President of the Watercolor Society of Oregon. The Watercolor Society of Oregon has awarded her its Outstanding Service Award and nominated her as Oregon's Delegate to the Western Federation of Watercolor Societies.
Ruth's work has received many local and national awards and been included in numerous national publications and exhibitions. In 2004 her work was profiled on Oregon Public Broadcasting's Oregon Art Beat.
You can find Ruth's work at the Portland Art Museum's Rental Sales Gallery. Ruth has enjoyed teaching for over 20 years and watching lightbulbs come on in her students' eyes.
Ruth's Studio
Ruth's home studio is perched above an oversized three-car garage, with dormer windows and excellent lighting. Each participant will have an ample work area: both seated and standing areas are available. If you work with an easel you are welcome to bring it. Lunches and slide programs are held in the kitchen and family room of the home. Refrigerator space is available to keep your lunch cold. Ruth provides coffee, tea and munchies. You will enjoy beautiful territorial views if you wish to paint plein air, including the farm's chickens, goats and sheep. You'll find ample parking and the company of studio companions "Red," "Lola" and "Russell." 
Cancellation Policy
Ruth Armitage is an independent provider of Art Workshops in Oregon City, Oregon. Workshop registration will be handled via web payment on a first come, first served basis. If you wish to pay by check, please Contact Ruth. Please make payments prior to the workshop to avoid monopolizing class time with paperwork.
Once your place has been reserved, there will be a non-refundable $100 charge for cancellation up to 30 days prior to the workshop. Cancellations less than 30 days before the workshop will incur a $175 cancellation charge. If you are able to sell your spot to another student there will be no cancellation fee.
Ruth reserves the right to cancel the workshop, in which case all tuition will be refunded promptly. In case of inclement weather or unforeseen circumstances, a make-up date may be set. If you cannot attend, you will receive a credit for a future class.
Testimonials
"Ruth teaches us design, cloaked in creativity."
Judy
"It was a very rewarding workshop. I feel everyone came away with new and exciting ideas. What I liked most was the slide examples and your description of how, why and what makes each work. No, maybe it was the exercises, no the demos, no the something different each day, or maybe it was —- everything. I felt your workshop was a good all around learning experience for everyone, any level. You have such a great since of humor, it made us all feel relaxed and right at home. Also, everyone was so nice, and really got into it."
Rhonda
"Ruth has so much to offer in many different aspects of creating artwork. She is approachable and respectful. She ranks well among the other excellent classes I have taken.  Ruth is decisive and thoughtful with her answers. Her ability to be personal and honest yet gentle are commendable. The class was worth my time and money and I have come away with many ideas, both theoretical and practical to work with."
Lisa
"Ruth, I think you are a wonderful teacher. Thank you for your positive and fun attitude. I especially liked to learn from your example, and I was glad to see you paint and struggle at times too…then solve whatever problem a work presented."
Debra Chase
"I've taken several classes from Ruth over the years. With each class I've come away with gems that have remained in my tool box. In her most recent workshop, I wanted to learn more about how to implement line. I feel that I accomplished that along with so much more. Ruth is such a generous teacher, always willing to go to the next step in the process."
Jennie O'Connor