Colors of France

Cancellation and Refund Policy
Tuition is refundable less a $75.00 administrative fee, which will be retained for all cancellations to offset the considerable time involved in accounting, corresponding and registering participants. Often other artists miss out because the class is full and they are not able to register in a timely fashion. For cancellations less than 30 days before the workshop begins, tuition is non-refundable, unless a waiting list participant takes your place. No refunds for no-shows or withdrawals after a workshop has begun, regardless of the reason.
In the rare case that a workshop must be cancelled due to the illness of instructor or due to insufficient enrollment, inclement weather or acts of God, students will receive a full refund.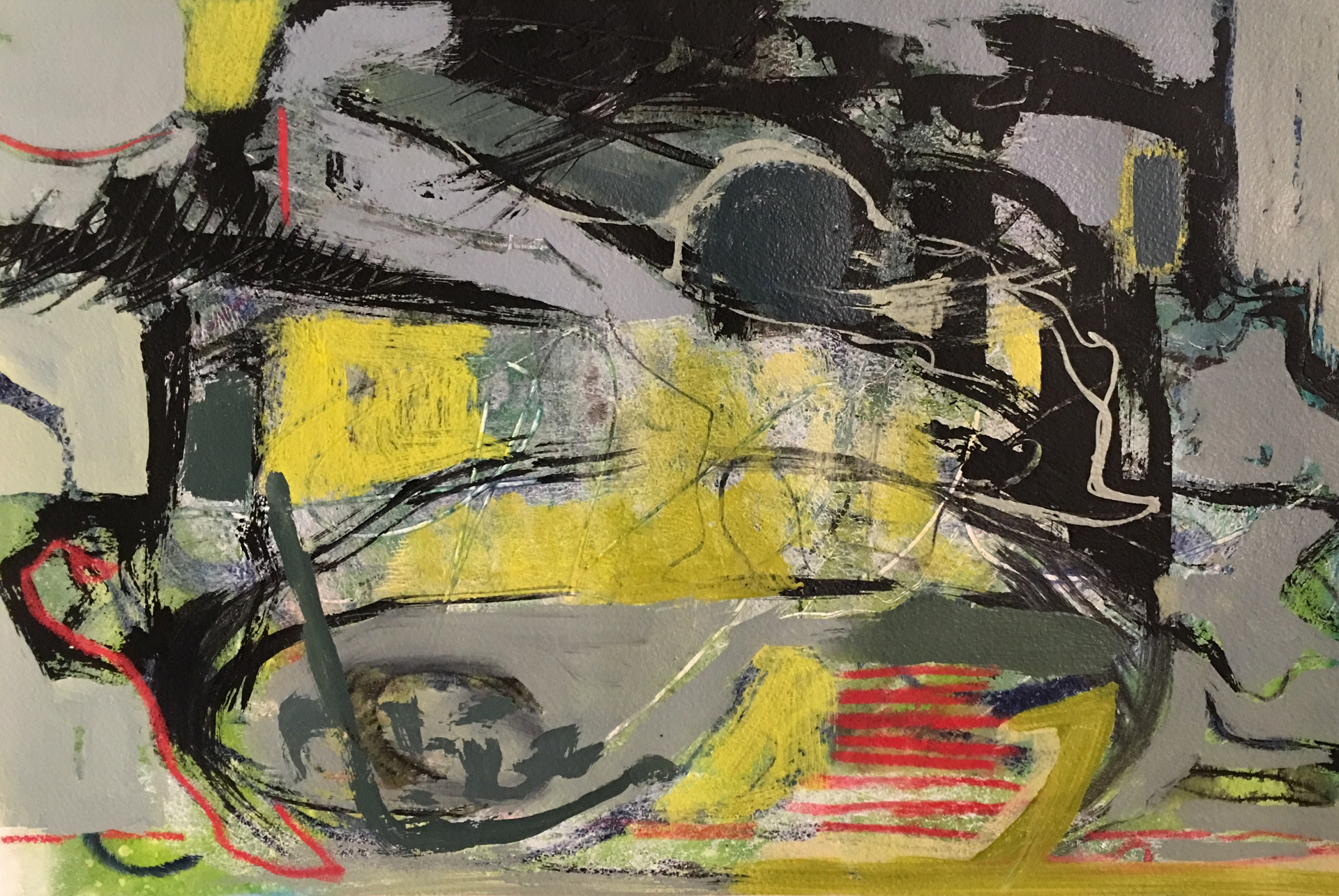 Ruth Ellen Hoag, AWS, NWS Composition & Color for Contemporary Painters
October 18 – 20, 2019
Oregon City
This workshop is about ideas. Ideas can break loose the creative spirit in each of us. They help us clarify what gives us joy and give us the satisfaction of making something that never existed before.
Ruth's professional training was in music. Having approached music from a lyrical point of view was preparation for her second career as an artist.
Ruth says: "In both art forms, when I go into the studio, all else is left behind, and my mind is opened to what is waiting to be thought or envisioned. Being in the moment of inspiration is quite the same whether making music or putting brush to paper. But it takes practice. What form will an idea take? Being receptive allows something different and unexpected to show up."
Painting Open Studio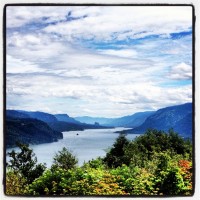 August 4 – 10, 2019: presented by Creative Arts Community at Menucha – a scenic art retreat in Corbett, Oregon.
Full registration details will be posted on the Creative Arts Community Website soon. Watch this space for full registration details.
Creativity & Composition
August 16-18, 2019: presented by Trails End Art Association, Gearhart, Oregon $350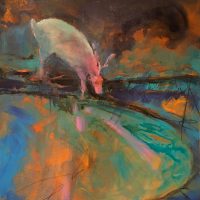 "Forest Pool" ©Ruth Armitage, Acrylic on Paper 30"x22"
Whether you work in paint, pastels, or multi-media, Ruth Armitage's workshop is a must to explore and develop your own style. Ruth has earned signature membership in the National Watercolor Society and member of several regional Watercolor Societies. She is President Emeritus of the Watercolor Society of Oregon and has served as Oregon's Delegate to the Western Federation of Watercolor Societies. 
 
Get beyond working from a photograph to create expressive and creative paintings with a wow factor. We'll cover letting go of 'reality' to different degrees, design and composition and choosing subject matter. Ruth breaks down the creative process and guides you through the trenches. You'll walk away with new-found confidence and ideas for future work. Suitable for all levels and all media.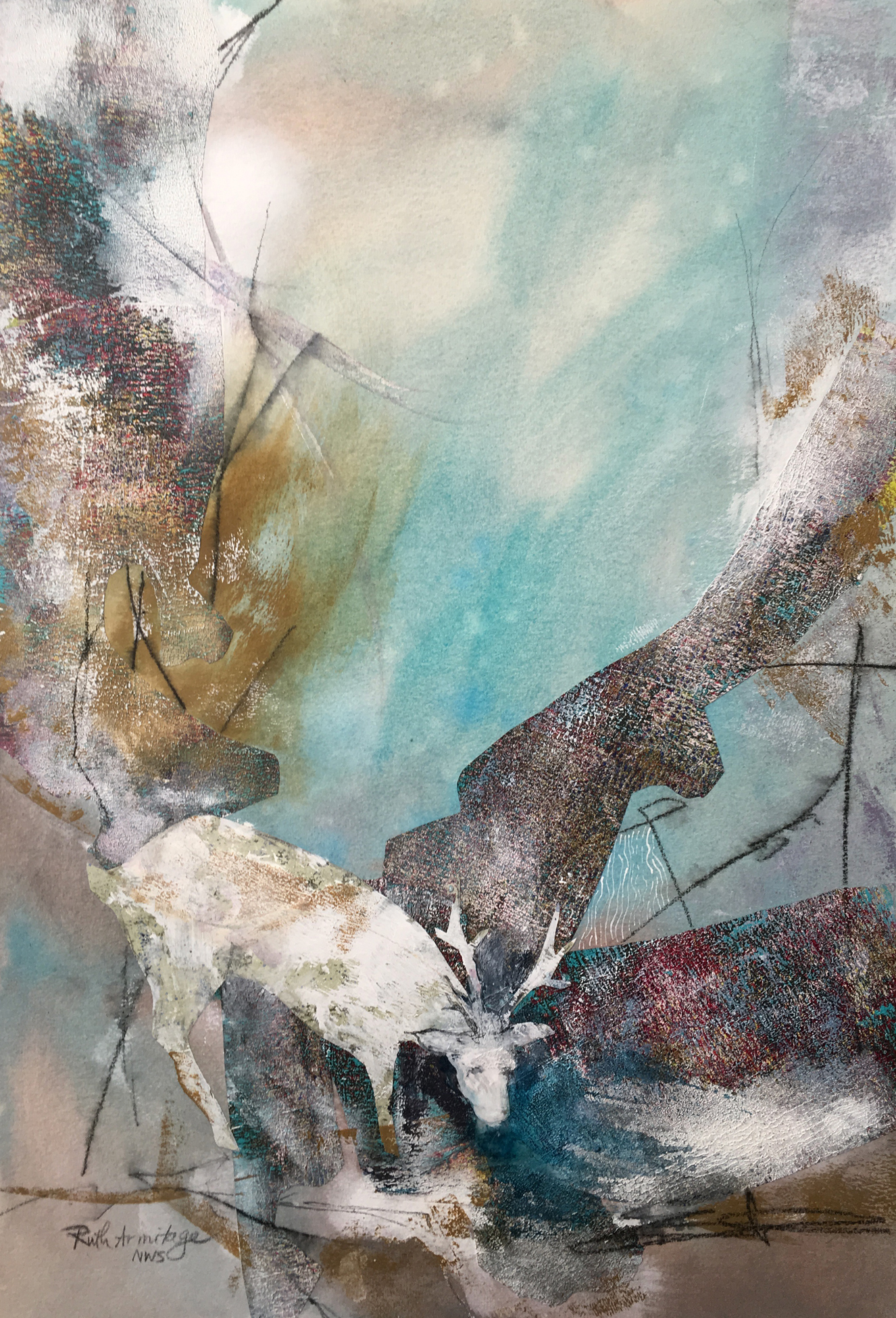 2020 & Beyond:
April 8 &9, April 10 & 11, 2020 Arizona Watercolor Association, Phoenix, AZ – More information to come.
September 13-15, 2021 Southwest Watercolor Society, Dallas, TX – More information to come.
Vancouver, WA - Design & Personal Expression
"Premonition" Acrylic on Paper, 30″x22″ ©Ruth Armitage SOLD
April 22 – 25, 2019, The Southwest Washington Watercolor Society presents a 4-Day workshop with Ruth Armitage.
The focus will be design and creativity, working toward each individual artist expressing their own style. Class size limited to 20 students. $350 for SWWS Members, $400 for Non-Members.
Click below to download registration form and mail with your deposit check.
Natives of Land, Sea & Sky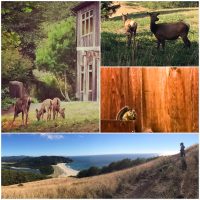 May 28 – 30, 2019, The Sitka Center for Art & Ecology presents this 3-day workshop in Otis, Oregon.
Full registration details will be posted on the Sitka Website on February 11. Member registration opens February 26. Members also receive a discount! Open registration begins March 12.
The workshop will focus on painting the spirit of creatures native to the Pacific Northwest. Animals teach us to hear and to see. Ruth will demonstrate how to go beyond painting fur and feathers, capturing the elusive and mysterious spirit of the animal and our relationship to it. Only 2 Spots Left
Land Lines: Watermedia Mark-Making for Personal Landscapes
October 31 – November 1, 2019, The Sitka Center for Art & Ecology presents this 2-day workshop in Portland, Oregon.
Full registration details are now available on the Sitka Webstie.  Member registration opens February 26. Members also receive a discount! Open registration begins March 12.
Join Ruth for a 2-day exploration of personal mark-making inspired by the landscape. Ruth will employ a coaching model rather than demonstration to encourage individuality and creativity. You'll delve into working on a large format (22×30″) with both gestural and more controlled strokes. Our lines, dots, patterns and textures will convey our feelings of place more potently than realistic rendering. Experiment with using script, repetition, direction, layering and much more. Walk away from the class with a new visual vocabulary. 
"It was a very rewarding workshop. I feel everyone came away with new and exciting ideas. What I liked most was the slide examples and your description of how, why and what makes each work. No, maybe it was the exercises, no the demos, no the something different each day, or maybe it was —- everything. I felt your workshop was a good all around learning experience for everyone, any level. You have such a great since of humor, it made us all feel relaxed and right at home. "
Rhonda
"Ruth, I think you are a wonderful teacher. Thank you for your positive and fun attitude. I especially liked to learn from your example, and I was glad to see you paint and struggle at times too…then solve whatever problem a work presented."
Debra Chase
I came away with a multitude of ideas. I feel more confident in how I will approach my art. Ruth gave me the key to unlock my ideas and get them down on canvas and tools to go beyond the basic beginning. She is a gentle, effective teacher. She knows when to leave you alone and when to offer help."
Buff Holtman
Ruth is a modest and approachable professional with lots of experience she is willing to share. My learning experience in this class was better due to several types of teaching methods—- personal art evaluations, teaching time, reference examples/materials and frequent desk critiques.
I left feeling excited and inspired about my art and a new approach to my creative process."
Jean
"I've taken several classes from Ruth over the years. With each class I've come away with gems that have remained in my tool box. In her most recent workshop, I wanted to learn more about how to implement line. I feel that I accomplished that along with so much more. Ruth is such a generous teacher, always willing to go to the next step in the process."
Jennie O'Connor
"Ruth has so much to offer in many different aspects of creating artwork. She is approachable and respectful. She ranks well among the other excellent classes I have taken.  Ruth is decisive and thoughtful with her answers. Her ability to be personal and honest yet gentle are commendable. The class was worth my time and money and I have come away with many ideas, both theoretical and practical to work with."
Lisa
Interested in a Workshop in Your Area?

I am available for jurying and workshops starting in 2019. Click the Contact button below to receive a packet with course description, work samples and testimonials.
Workshops generally span 3, 4 or 5 days and can be customized for your group. Please provide information about location and the needs of your group. I look forward to hearing from you!
About the Instructor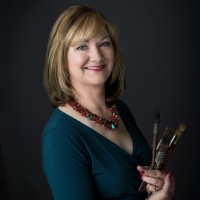 Ruth Armitage is a signature member of the National Watercolor Society, the Northwest Watercolor Society, Rocky Mountain National Watermedia,  the California Watercolor Society and Past President of the Watercolor Society of Oregon. The Watercolor Society of Oregon has awarded her its Outstanding Service Award and nominated her as Oregon's Delegate to the Western Federation of Watercolor Societies.
Ruth's work has received many local and national awards and been included in numerous national publications and exhibitions. In 2004 her work was profiled on Oregon Public Broadcasting's Oregon Art Beat.
You can find Ruth's work at the Portland Art Museum's Rental Sales Gallery. Ruth has enjoyed teaching for over 20 years and watching lightbulbs come on in her students' eyes.
Ruth's Studio
Ruth's home studio is perched above an oversized three-car garage, with dormer windows and excellent lighting. Each participant will have an ample work area: both seated and standing areas are available. If you work with an easel you are welcome to bring it. Lunches and slide programs are held in the kitchen and family room of the home. Refrigerator space is available to keep your lunch cold. Ruth provides coffee, tea and munchies. You will enjoy beautiful territorial views if you wish to paint plein air, including the farm's  goats and sheep. You'll find ample parking and the company of studio companion "Russell."