Hello!
I'm Ruth - Artist, Teacher, Juror
I'm glad you're here. I offer original artwork, online classes, and (when possible) in-person workshops. I think you'll like what you see. Take a look around my corner of the web, keep in touch, and let me know how I can make your life more beautiful.
– Artist Ruth
About Me
Blog
"Ruth has so much to offer in many different aspects of creating artwork. She is approachable and respectful. She ranks well among the other excellent classes I have taken.
Ruth is decisive and thoughtful with her answers. Her ability to be personal and honest yet gentle are commendable. The class was worth my time and money and I have come away with many ideas, both theoretical and practical to work with."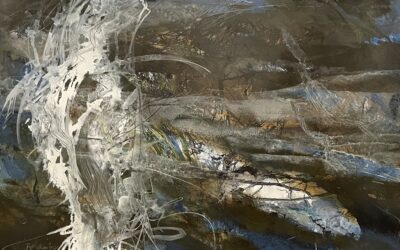 I've been looking at the dark side a lot lately. This isn't about perspective, it's something I have to go through as part of the process of grief and loss. Although I often find myself trying to 'bright-side' everything, the pain and fears for the future have been overwhelming at times. I've always been a bit of a night owl, and now that I'm alone that proclivity is even stronger. Like many women my age, I struggle with insomnia a bit, and I find my ideas flow more easily at night. Maybe it's just that I have had the chance to clear the slate of 'to-dos' by this time of day – or maybe the to-do's wake me up.
read more