Land Lines
January 25-29, 2021:
Colorado Watercolor Society  – Denver, CO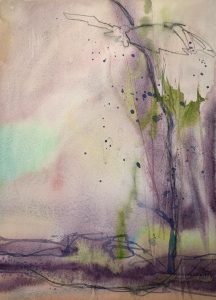 "Last Day VII" Watercolor and pencil on paper 12″x9″
Making line is our first experience of art as children. It is as old as cave art, and as contemporary as graffiti. For painters, it is often overlooked in favor of texture, value, shape, form or color.
Join Ruth for this 3-day online workshop exploring personal mark-making inspired by the landscape. You'll experiment with different mark making tools and a symbolic, abstracted approach.
Using script, repetition, direction and layering to interpret or symbolize a specific, special place, will convey feelings more potently than realistic rendering. This class is suitable for both watercolor and acrylic painters.
All content will be accessed through my learning portal on thinkific.com and via Zoom live video/voice calls. You will need access to the internet: a laptop or desktop is best, but tablets also work. You'll need to be able to log in, upload images for review, etc. If you are not sure whether you'll be able to navigate the technology, preview my free mini-workshop: Texture Explorations here: https://artistruth.thinkific.com/courses/texture-explorations?ref=3a55e7
Registration is now open here:   https://www.coloradowatercolorsociety.org/event-3821522
I really appreciate you as a teacher as well as an artist. I've had lots of workshops with many different people - some of them quite famous. But you have been the best at actually teaching as opposed to demonstrating or having students copy exactly what you are doing."
"Ruth has so much to offer in many different aspects of creating artwork. She is approachable and respectful. She ranks well among the other excellent classes I have taken.
Ruth is decisive and thoughtful with her answers. Her ability to be personal and honest yet gentle are commendable. The class was worth my time and money and I have come away with many ideas, both theoretical and practical to work with."
I can't remember enjoying an art-related event so much. You are a gifted teacher, always ready when I hit a wall. I loved your demonstrations... How nice, too that we were all so compatible. Thank you, thank you!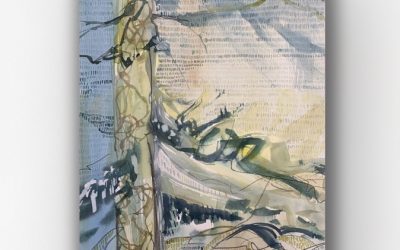 Even though I work hard to be objective, my inner critic fluctuates between Pollyanna and Punch & Judy. It can be hard to know which of my multiple personalities to trust! You should hear their comments!
read more