Hello!
I'm Ruth - Artist, Teacher, Juror
I'm glad you're here. I offer original artwork, online classes, and (when possible) in-person workshops. I think you'll like what you see. Take a look around my corner of the web, keep in touch, and let me know how I can make your life more beautiful.
– Artist Ruth
About Me
Blog
Paint with Me
Land Lines
January 25-29, 2021:
Online Workshop for Colorado Watercolor Society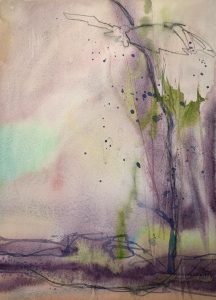 "Last Day VII" Watercolor and pencil on paper 12″x9″
Making line is our first experience of art as children. It is as old as cave art, and as contemporary as graffiti. For painters, it is often overlooked in favor of texture, value, shape, form or color.
Join Ruth for this hybrid online workshop: Pre-recorded demos and Live Zoom Q & A. We'll  explore personal mark-making inspired by the landscape. You'll experiment with different mark making tools and a symbolic, abstracted approach.
Using script, repetition, direction and layering to interpret or symbolize a specific, special place, will convey feelings more potently than realistic rendering. This class is suitable for both watercolor and acrylic painters.
All content will be accessed through my learning portal on

 

thinkific.com

 

and via Zoom live video/voice calls.
From a Reader...
"
I want you to know how valuable this particular newsletter was to me. The past few months I have been working on some memorial prints. My mother passed away two years ago and I have wanted to express some of my loss, love and memories in a visual way...
After reading your writing about triggers, I decided to try to redefine my challenges, to take a deep breath and lean in to my mother's presence. I started today. The release and the joy…. along with a few tears was almost immediate. Mom is with me as I explore the mark making... Your contribution lightened my heart and allowed me to move forward."
I really appreciate you as a teacher as well as an artist. I've had lots of workshops with many different people - some of them quite famous. But you have been the best at actually teaching as opposed to demonstrating or having students copy exactly what you are doing."
"Ruth has so much to offer in many different aspects of creating artwork. She is approachable and respectful. She ranks well among the other excellent classes I have taken.
Ruth is decisive and thoughtful with her answers. Her ability to be personal and honest yet gentle are commendable. The class was worth my time and money and I have come away with many ideas, both theoretical and practical to work with."
My sense is that I've made progress in several areas:
Starting paintings with intention about what I want to say and consideration about how to implement it.
Experimenting with design principles as well as materials and methods (composition, color, line, value, glazing, ProCreate).
Moving toward abstraction (reducing information, suggesting, sometimes leaving interpretation to the viewer).
Quieting my internal critic, especially at the early stages of a painting.
Turning "missteps" into opportunities.
Being more willing to take risks.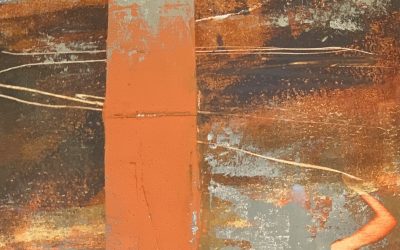 Unlike other art forms such as music, dance, and theatre, the visual arts are a gift that artists give to the community for free. People can walk into galleries without paying and experience original art.
read more