Hello!
I'm Ruth - Artist, Teacher, Juror
I'm glad you're here. I offer original artwork, online classes, and (when possible) in-person workshops. I think you'll like what you see. Take a look around my corner of the web, keep in touch, and let me know how I can make your life more beautiful.
– Artist Ruth
About Me
Blog
Land Lines
Tuesdays, November 2-23
Making line is our first experience of art as children. It is as old as cave art, and as contemporary as graffiti. For painters, it is often overlooked in favor of texture, value, shape, form or color.
Join Ruth for this 4 week online workshop exploring personal mark-making inspired by the landscape. You'll experiment with different mark making tools and a symbolic, abstracted approach.
Using script, repetition, direction and layering to interpret or symbolize a specific, special place, will convey feelings more potently than realistic rendering. This class is suitable for both watercolor and acrylic painters.
"Ruth has so much to offer in many different aspects of creating artwork. She is approachable and respectful. She ranks well among the other excellent classes I have taken.
Ruth is decisive and thoughtful with her answers. Her ability to be personal and honest yet gentle are commendable. The class was worth my time and money and I have come away with many ideas, both theoretical and practical to work with."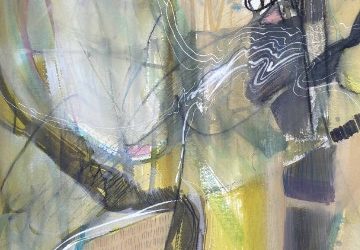 When you use social media, you're unaware of its impact. People could be simply scrolling - or they might be turning into your biggest fan. I prefer to think of social media as an easy way to stay in touch with lots of friends. I had a nice surprise this week when...
read more