Artist Statement
My paintings express my connection to the family farm.  The abstracted landscapes are inspired by memories, imagination and observation of aerial views.

 

Rich, vibrant color embellished by narrative, symbolic pencil and brush marks tell the story of my connection to the property that has been home to my family.
I work in watercolor, acrylic and oil mixed with cold wax, but viewers often have difficulty telling them apart. Each of these mediums have their strength. The fluidity of water media allows me to work very spontaneously while the ability to build up texture and layers attract me to the use of oil paint. You'll notice similar shapes, color and line work in all of my paintings.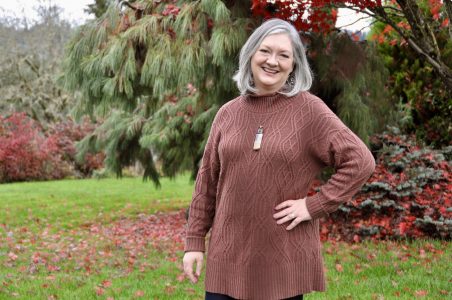 Ruth Armitage  is a signature member of the  National Watercolor Society , Rocky Mountain National Watermedia, San Diego Watercolor Society, Watercolor West, California Watercolor Association and the Northwest Watercolor Society, and Past President of the Watercolor Society of Oregon. The Watercolor Society of Oregon has awarded her its Outstanding Service Award.  Ruth's work has received many local and national awards, including the American Watercolor Society's Bronze Medal of Honor and the Loa Ruth Sprung Award in the National Watercolor Society's 95th Annual Exhibition.
Inclusion in numerous national publications and exhibitions has led to wide-spread recognition for Ruth. You may have seen her work profiled on Oregon Public Broadcasting's "Oregon Art Beat." Most recently Acrylic Artist Magazine ran a 10-page feature article in their Spring 2016 issue.
You can find Ruth's work in Portland at Waterstone Gallery and the Portland Art Museum's Rental Sales Gallery, and Earthworks Gallery in Yachats, OR. She is a gifted  instructor and has juried national, local and state exhibitions. Ruth enjoys sharing the creative process in the classroom and watching lightbulbs come on in her students' eyes. Read their comments about Ruth's classes on her
'

Workshops'

page. Ruth lives and works in West Linn, Oregon.
In the words of Ruth's Students:
"Traveler, there are no paths. Paths are made by walking."
I enjoyed your teaching style. Thank you for the very helpful critiques. I tried things I had never done before and left with concepts I know I can continue to work on."
"Ruth is an outstanding art instructor for both beginning and experienced artists working in watercolor and acrylics. She puts much thought and planning into her workshops which helps students' learning. Ruth is passionate about painting and her enthusiasm is inspiring. Also, she is a genuinely nice person and her workshops are fun as well as educational."
"Ruth teaches us design, cloaked in creativity."
"I wanted to tell you how pleased I was with your workshop at the Village Gallery. I have heard about working in a series before but no one ever pointed out how to do that. I liked your presentation style and the way you encourage people to find their own style rather than push yours."
"Ruth, I think you are a wonderful teacher. Thank you for your positive and fun attitude. I especially liked to learn from your example, and I was glad to see you paint and struggle at times too…then solve whatever problem a work presented."