Two shows this week:
Art for Everyone – Sitka Invitational!
Please join me to celebrate the release of Art for Everyone, a new textbook created by the Faculty at Chemeketa Community College to help alleviate the high cost of textbooks for art students. I'm thrilled to have my artwork grace the covers of this important textbook.
I'll be at both receptions, November 2 and November 9, at the Gretchen Schuette Gallery on Chemeketa Community College's campus. Click on the poster below for more details!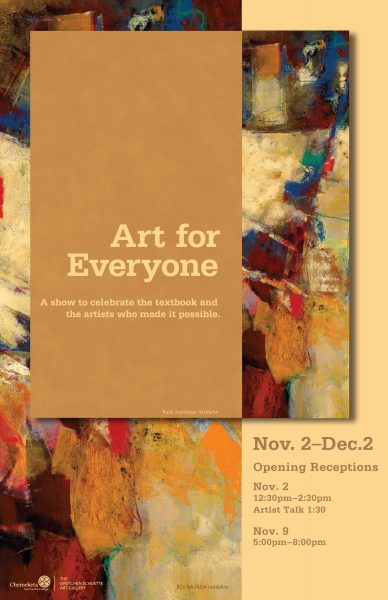 Also this week, I'm excited to be a part of the Sitka Art Invitational. I'll be speaking about my work on Sunday, November 6 at 1:30 pm. The show features over 130 talented Northwest artists. What I love about this show is the feeling of community. Everyone pitches in to celebrate the arts and ecology of this special retreat on Cascade Head, near Otis, Oregon. Artists residencies, workshops and ecology are all a part of this place, but it is the people who make it happen!
Join us: Saturday & Sunday, November 5 & 6, 2016 at the World Forestry Center! Click on the card below for more details: