Gathering – "What matters is the gathering, the pockets filled with remnants of the day evaporated."
-Nina Bagley
I've decided to start a new series of posts called "Art Is." As a kid I loved the comic strip "Love Is…" It was corny, but so true.  So each post in this series will explore a different facet, inspired by different quotes about what Art Is. If you're not subscribed to updates by email, this would be a great time to add your name to the list on my contact page or in the sidebar on my site.
Workshops are for Gathering
I think of workshops as opportunities to spend time gathering. I've had the opportunity to teach a few art classes recently, and I've also enjoyed being a student.  I found myself as a student making detailed notes about everything the instructor said. I even asked a friend to write down the instructor's thoughts during the critique of my work. When I teach it is gratifying to see students writing down the thoughts and methods I'm introducing.
But, I think the most important part comes after a workshop. This period when an artist is incorporating the ideas they learned into their art practice is crucial.  I'm struggling with that a bit right now. My workshops with Skip Lawrence and Fran Larsen gave me a chance to take a look at adding more realistic images to my work. I'm still debating with myself about whether that feels like a good fit for me. I'm sure time will tell. One thing I do know, I must paint to please myself, not any instructor.
It can be tough to rise above the urge to please an influential teacher. My goal is to balance what I've learned with what I want to do in my work.
In other news, my work is 'gathering' awards and recognition! My painting "Do Not Hesitate" earned an Award of Distinction in the Watercolor Society of Oregon's Spring Show. I'm honored thanks to juror Fran Larsen! Also, I'll be sending off "Gene's Fiddle" to the Red River Watercolor Society show, which runs June 18 – August 4, 2018 in Moorhead, MN. Thanks to juror Mark Mehaffey!
Here are a few photos from my most recent workshop in Springfield and one from the workshop with Fran Larsen. She was energetic and inspiring as a teacher.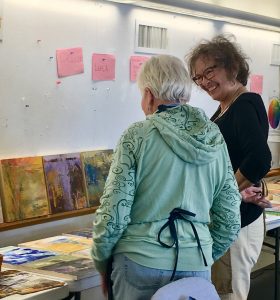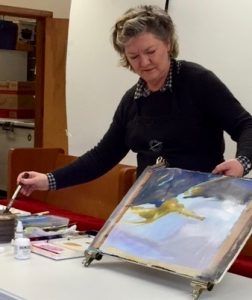 My Demonstration for SWA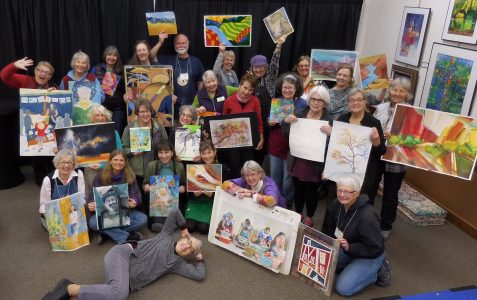 Fran Larsen Workshop
This week and next I will have the opportunity to jury 2 local art shows: Lake Area Artists and Society of Washington Artists. It will be good to keep in shape for the big job of jurying the 27th Annual International Society of Experimental Artists Exhibition. I feel honored to be asked to jury this fantastic exhibition. They have a lot of prize money to give away! Entries are due June 1st on the Cafe' Entry System. You can register here for the symposium and workshop that will be held September 21-28, 2018 in Newport, Oregon.
Additional Summer Workshop:
Finally, I've decided to offer one more workshop this summer. Demand has been high! Most of my classes have been filled with a waiting list, so if you are interested, register today.
Moving Toward Abstraction – All Media June 28, 29 & 30th, 2018
Join Ruth to explore taking your paintings to a more abstract level. You may choose to work in Watermedia, Oil or Dry Media. Ruth will demonstrate in Oil & Watermedia. Held in Ruth's Oregon City Studio: Class size limited to 8. $325 Register on my workshops page.