Yesterday was "Groundhog Day" in the United States, and those who are enduring a long harsh winter may be wanting to get a jump on Spring. There's not a finer way to do that than to experiment with an Abstracted Floral!
My painting above "Wild Daffodil" was inspired by fields of daffodils that dot the countryside in Oregon. You can see where abandoned home sites were by scanning the beautiful green fields for waves of bright yellow, naturalized daffodils. The cheerful yellow always seems at odds with the fact that a home once stood there and now is gone.
I love the flowers that come from the fields – they are often tattered by weather, and many have grown away from their cultivated lineage to be wild, multi-petaled and blowzy. This painting would brighten up a bedroom, office, library, dining or living room. I love the drama that the dark background adds.
I used an app called IArtView to show how this work would look in a couple of different settings. A wonderful feature is you can also upload a photo of your wall and visualize how it would look in your home! Try it out!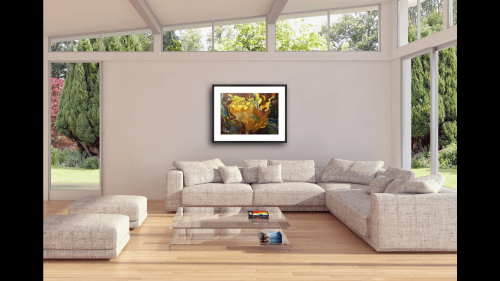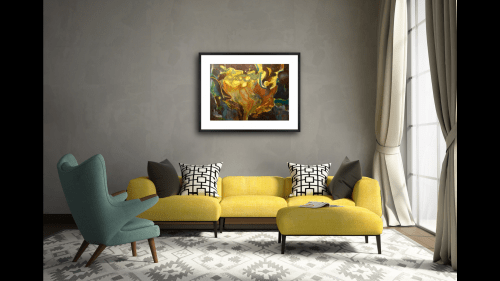 Inspiration for Abstract Floral Paintings
If you're looking for other floral inspiration, check out my Pinterest board. You'll find interesting abstractions by some of the following 6 talented artists:
Jimmy Wright: This artist emphasizes the fluidity and motion of petals, and comes up with some pretty unusual and subtle color emphasis too.
Winifred Nicholson: I love the unified color in this simplified still life. You can almost smell the lily of the valley.
Jake Muirhead: Converting a colorful Iris to black and white, Jake also adds drama and personality using line and simplifying the setting.
Scott Conary: Scott's textural paint application and emphasis on pure vs. subdued color make me want to touch his work. They also touch me!
Ophelia Pang uses bold and repeated shapes to create entertaining and playful abstractions.
Sandrine Pelissier creates fantastic patterns and flattened shapes from her imagination.
If you're an artist you can try some of the following methods:
emphasize one part of the flower, like Jimmy Wright
use a monochromatic palette, like Winifred Nicholson
add texture with brushwork, like Scott Conory
create patterns and funky shapes like Ophelia Pang, Sandrine Pelissier or me!
Where should I go next?
Finally, I'm taking a poll: help me decide the next travel workshop I should offer! Vote for your favorite locale below:
[poll id="2″]