"I refuse to accept the idea that man is mere flotsam and jetsam in the river of life, unable to influence the unfolding events which surround him." – Martin Luther King, Jr.
"Flotsam and Jetsam" – my newest painting- has a tumultuous feeling. Perhaps it was influenced by recent world events. I ache for the many people in the world who have lost loved ones in the past week.
I was in love with the color early on, and struggled to keep the whole thing transparent. However, I wanted to keep it unusual as far as shape, color and line. Sometimes I fall in love with an area too early in the painting process. Then there is the deadly lure of that precious area that can undermine a painting.
Why would I want to keep the painting transparent? Well, there are a couple of show deadlines coming up that specify only transparent watercolor. Painting for a deadline like this is a little bit like going into a bar and trying to find someone to marry. It's risky! I'd much rather enter something that evolved naturally.
Thanks to critiques along the way from some good painting buddies, I feel that the painting is complete. In an unusual turn of events, I changed the title to 'Flotsam and Jetsam' at the end of the process. The finished painting has a feeling of sand and surf to me.
Perhaps that is because of the workshop I'm planning for Maui next year! You'll want to read all the details and start planning for next fall! Click the Workshops tab for more information.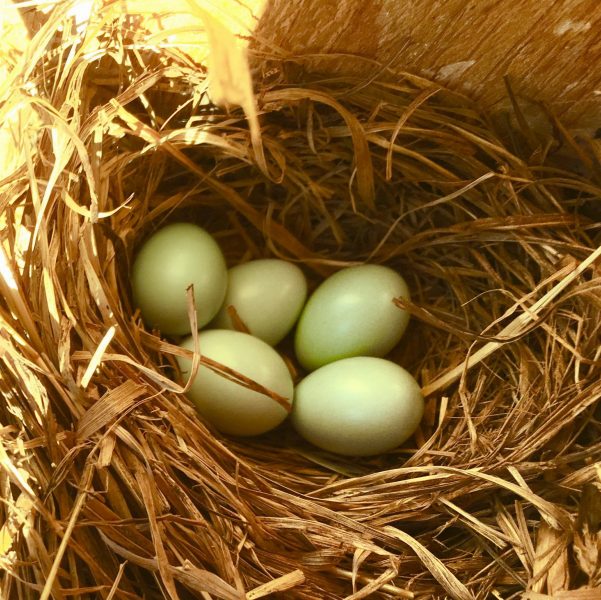 An exciting, hopeful event has transpired here on the farm! We are expecting a clutch of baby bluebirds! Those who know me well know that I have been trying to attract bluebirds to our property for 6+ years. I will keep you posted on their hatch…. I'm a happy bluebird watcher.