"If you never did you should. These things are fun and fun is good."

– Dr. Seuss
It's been a fun week of experimentation. Through the generosity of good friends, I've had the chance to try out two mediums I haven't had a chance to explore before.
On Monday, I gathered with some gal pals at the Village Gallery in Beaverton to play with Pastels. Portland artist Gretha Lindwood passed along lots of helpful tips and coached us in our efforts. After teaching workshops back-to-back, it was nice to be on the receiving end of inspiration. I just wish I had taken more pictures on Monday!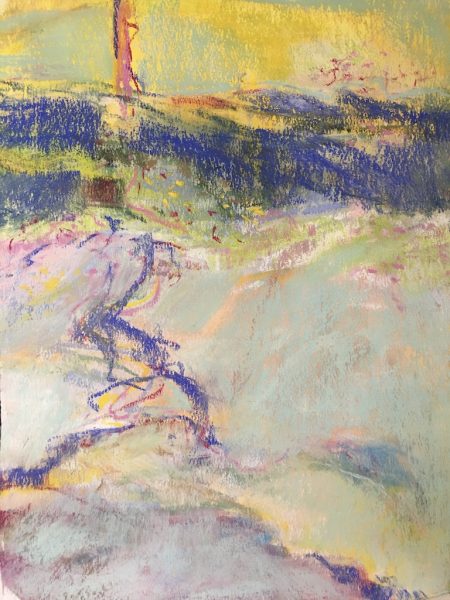 Next, on Wednesday & Thursday I had the opportunity to visit Don Gray in his airy studio, to try out mono-printing. We were instructed by talented and generous Portland artist, Jason Mayer. Jason hauled in his press, plates, brayers, inks, spatulas and everything we needed to get messy and creative. He was a wealth of knowledge and encouraged our efforts. His demonstrations were so inspiring too. I'd highly recommend him as a teacher. Click on the images below for a full view.
I love being a student and opening my mind to new techniques, processes and ideas. Our after hours were exciting too, comparing notes on favorite artists, looking at art books and sharing a walk and meals together. Artists make the best companions! The whole week has had me thinking about how generous my friends are. It's how I hope to be.
"That's what I consider true generosity: You give your all and yet you always feel as if it costs you nothing."

—Simone de Beauvoir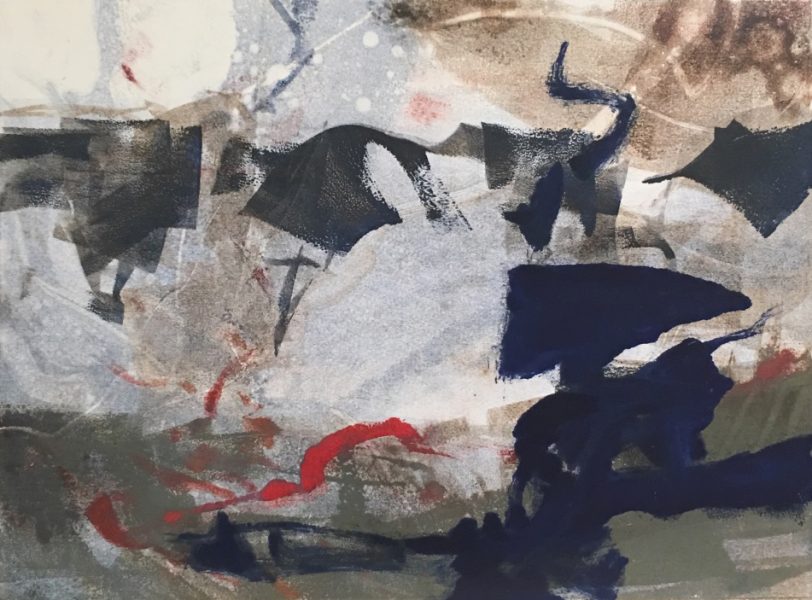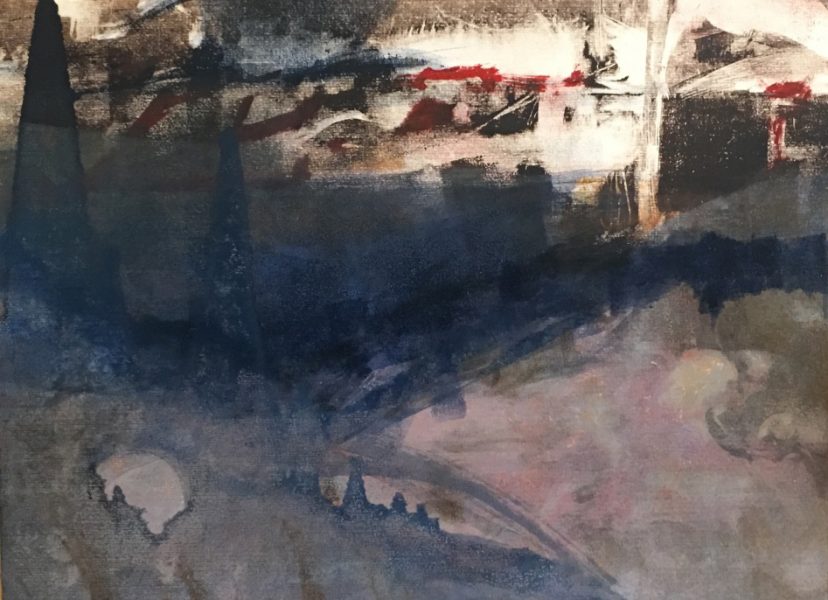 A few words about the titles for these pieces:
"Cheery Upping" is a reference to a phrase from the journal of Joseph Cornell: "Cheery Upping of Insistent Robin." "Pete's Pond" is a place near the farm where we used to fish for bluegill and bass. It was inhabited by giant carp that used to scare the wits out of me! Winter storm seems pretty self-explanatory. Let me know what you think!
New Workshop Offerings
Finally, if you're looking for fun workshops, I have just listed a couple of new ones on my page: https://rutharmitage.com/art-workshops/. These often fill quickly, so don't delay in registering. In August, I'll be teaching two workshops: Creative Arts Community at Menucha retreat center in the Columbia River Gorge, and Trails End Art Association on the coast in Gearhart, Oregon. Both promise to be community building and lots of fun.
Then in October, I'm sponsoring a wonderful opportunity to study with master artist Ruth Ellen Hoag, AWS, NWS right here in Oregon City. Her workshop is called Composition & Color for Contemporary Painters.
Here's the class description:
This workshop is about ideas. Ideas can break loose the creative spirit in each of us. They help us clarify what gives us joy and give us the satisfaction of making something that never existed before.
Ruth's professional training was in music. Having approached music from a lyrical point of view was preparation for her second career as an artist.
Ruth says: "In both art forms, when I go into the studio, all else is left behind, and my mind is opened to what is waiting to be thought or envisioned. Being in the moment of inspiration is quite the same whether making music or putting brush to paper. But it takes practice. What form will an idea take? Being receptive allows something different and unexpected to show up."
In this workshop, Ruth will present a look at what today's artists are doing to create unique works that capture the imagination.
How do we build technical skills in acrylic or watercolor, and then use these skills to our advantage? How do we find our own way in this contemporary art world to create what is unique to us? Are there rules for what makes good art? How do we develop a distinctive color palette?
Whether you work from an expressive mode, or see the world through a strong design perspective, you'll find ideas for creating contemporary realism and non-objective abstraction in this workshop. Developing color sense and creative composition will be our focus.
I can't wait to join the fun! Learn more about all my offerings here: https://rutharmitage.com/art-workshops/