Guest Blog Post!
June marks the 12th Anniversary of my blog: Art is Truth. Each year I try to do something to give back to the blog community and celebrate art and the connections it gives us. This year, I'll be posting guest articles from readers each week. I hope you'll enjoy reading a post from my dear friend, Margaret, below!
Margaret Writes
"What happens when a painting comes from the depths of your emotions? My artwork "Enduring the Cure" is exactly that–a painting from the depths of my emotions. Five and a half years ago I entered a hospital room to see my younger daughter lying in a hospital bed, bald with umpteen hanging bags with tubes attached to her body. Her beautiful face expressed helplessness, resignation and exhaustion. She had signed up for this experimental treatment for her Multiple Sclerosis, but none of us really knew what that would entail–yet here I was witnessing its toll on my loved one.
My initial reaction was sadness and pity. But my aesthetic soul began to see art: a beautiful face, a patterned blanket . . . Klimpt. And thus my memory of that moment created the painting, "Enduring the Cure" several months later.


This painting went on to win awards and was immediately purchased.
And now it is on the cover of my daughter's book which was published October 1, 2019. "Enduring the Cure: My MS Journey to the Brink of Death and Back."
From that point, I went on to paint several more pieces about her treatment and recovery.
"Recovery" was more cheerful in colors and I put her three children onto the quilt because they are really what kept her going.
Then other parts of her life came into focus for me so I continued painting.

"Without Hair" was inspired by the many times she commented on the difficulty of being a bald woman. I asked her to write down her worries, and included those thoughts into the art.

Her collection of hats captured my imagination and inspired, "Which Hat to Wear."
Rachel had been an athlete all her life and even after her MS diagnosis she continued to jog and run. Eventually she had to give up her running half and full marathons as the disease became more aggressive. Here I painted her surrounded by her collection of shoes.
Taken from the mythological Phoenix, I painted her rising from the ashes with an Egyptian take. "Ma'at" is the title of this one.
And the final painting of this series is "The Journey is Not Done." I went back to Gustav Klimpt to paint Rachel with hair, months after her treatment was over.  In this painting, I placed her favorite Van Gogh painting behind her. In most of these paintings, she is barefoot as a symbol of women's vulnerability. The Klimpt inspired mosaic is not finished because neither is her journey through life.
Some of these paintings have remained in my studio. Some have gone off to competitions. All are full of the content of what it means to be a mother watching a child go through a disease and a dangerous cure.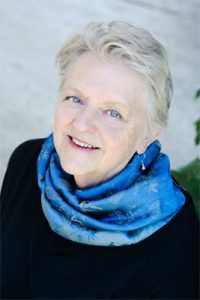 Margaret Godfrey is a symbolic painter who has been described as a conceptual artist. Her paintings have an abundance of symbols, which help tell the underlying story of a series. By working in a series, she is able to explore and express different aspects of the pictorial metaphor. Her patterns and decorative designs flow through her body of work, connecting the layers and messages of a series. In viewing her paintings, look beyond the literal; search for the allegory.
Her pictures incorporate both representational and abstract styles and often include both. She uses watercolor, acrylic, ink, and collage in her creative works on paper. Living in the beautiful McKenzie Valley in Oregon and traveling throughout the U.S and abroad, she finds an abundance of inspiration for creating art. Margaret shares her enthusiasm for art through teaching workshops and active membership in art associations.
Margaret is an award-winning member of the Watercolor Society of Oregon, the Western Federation of Watercolor Societies, the Northwest Watercolor Society and she is a signature member of Northwest Watercolor Society and Hawaii Watercolor Society. She is a member of Watercolor West, National Watercolor Society, and American Watercolor Society. Her works have been in juried shows around the United States. Her paintings hang in private and public collections in the U.S., Honduras, Canada and Japan.
Margaret is a self-educated artist with a background in education and counseling. She has studied with many nationally known artists.