I wanted to take time here to formally thank Connie Rodriguez for hosting my workshop last month in Rocklin, CA. She did a fantastic job of gathering eager and enthusiastic students from all over the area to participate.
Here is a re-cap of the workshop.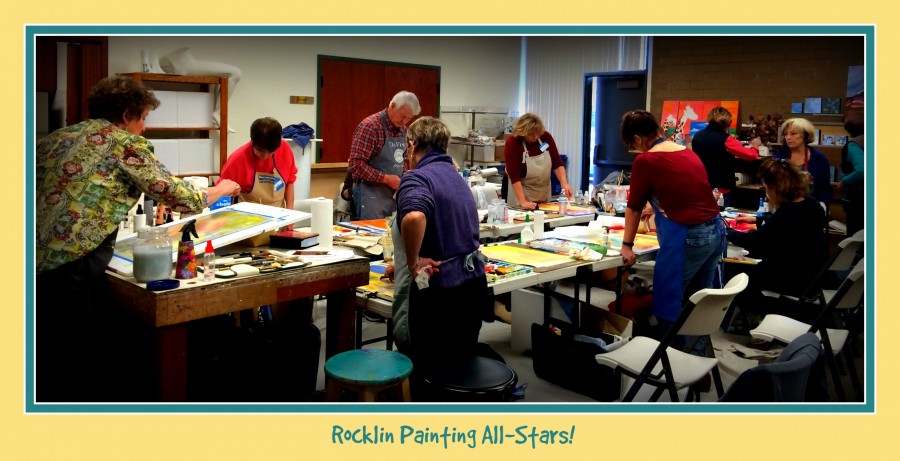 We had 15 enthusiastic painters of all experience levels in a great classroom at the Rocklin Community Center. The classroom was close to the hotel where I stayed and I really enjoyed walking to class one morning. As you can see from the photo above, everyone worked hard and jumped into each challenge that I set with gusto!
Some of the exercises were more difficult than others, but they forged ahead with enthusiasm and were so successful! I only wish I'd gotten some photos of their terrific work.
Here is what I have done with the demonstration paintings that I started in class. Below is the finished painting from day one's demo. I kept adding light washes over the central part of the painting, then finally glazed over the entire central area with a thin wash of acrylic ink in Indian Yellow. I like how it gives a much warmer feeling to the piece.
I also worked more on my second demonstration painting. I glazed over the center area, which was more violet in tone, with a thin wash of sepia acrylic ink. I also used some rose colored embroidery floss to stitch some antique lace from a silk handkerchief onto the top of the painting. The hankie was my grandmother's: a souvenir from the 1925 World's Fair in Paris. The Paris connection seemed to fit with the story from All the Light We Cannot See. This painting will hang at the Lake Oswego Reads show this month, opening Thursday the 5th.
I'm always interested to hear your comments! Here are a few remarks from the workshop participants:
"Ruth is the most calm  competent, knowledgeable and patient instructor I have  ever experienced."
"Rave reviews!  Loved you and the way you teach.  Refreshing, inspirational, and informative."
"You have an approach of teaching methods in which the students can work and explore, but not be guided by your style. It really is the student's personality that comes thru in the individual works."
"I felt your workshop was a good all around learning experience for everyone, any level. You have such a great sense of humor, it made us all feel relaxed and right at home."