I've been looking at the dark side a lot lately. This isn't about perspective, it's something I have to go through as part of the process of grief and loss. Although I often find myself trying to 'bright-side' everything, the pain and fears for the future have been overwhelming at times. I've always been a bit of a night owl, and now that I'm alone that proclivity is even stronger. Like many women my age, I struggle with insomnia a bit, and I find my ideas flow more easily at night. Maybe it's just that I have had the chance to clear the slate of 'to-dos' by this time of day – or maybe the to-do's wake me up.
At any rate, I've been drawn to painting dark scenes lately. I don't think it is just because of the darkness of the current era of political strife and economic turmoil. I don't think it is because of the grief I'm currently living through with the loss of my husband. This is a much more long-running attraction.
Here are a few older paintings that focused on a night theme: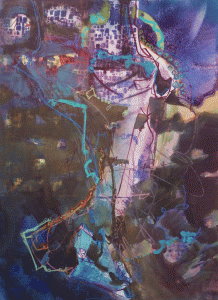 "Night Walk" ©Ruth Armitage 2014, Watercolor on paper 30″x22″ $1950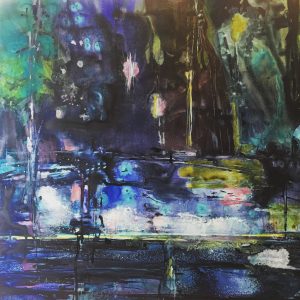 "Fishing in the Dark" ©Ruth Armitage, 26×26″ Watermedia on paper, SOLD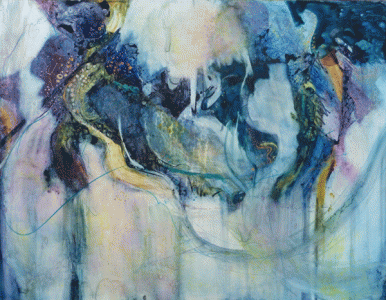 "Summer Night" ©Ruth Armitage 2013 30×38″ $1950
Newer works that focus on night scenes:
The first two are from my show "Tribute" at Waterstone this June. Click here to order the catalog.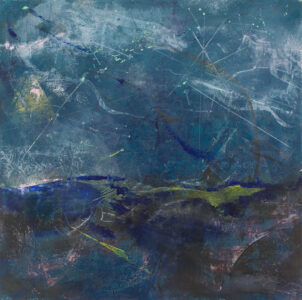 "Constellation" Oil & Wax on Panel, 24″x24″ ©Ruth Armitage SOLD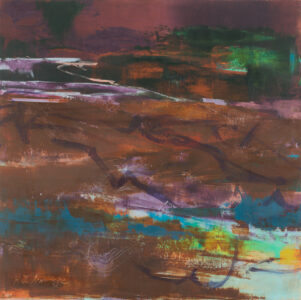 "River of Dreams" Oil & Wax on Panel 24″x24″ $1900 ©Ruth Armitage
My most recent nocturne is called 'By Moonlight' and just traveled to Colorado for the Rocky Mountain National Watermedia show.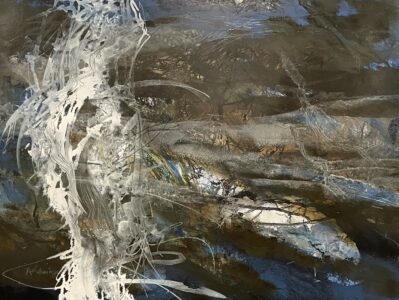 "By Moonlight" Mixed media on yupo, 20×26″ ©Ruth Armitage 2022
Does Dark Sell?
A recent viewer commented that the darker paintings might be difficult to sell. I am surprised to report that most people I spoke to responded very well to these explorations of the dark side. And really, I can't concern myself with how the work is received. I just have to create from my heart.
In essence, I see paintings about the night as an important, personal aspect of my work. My darkest paintings seem more intimate to me, more mysterious (in a good way.) I'm interested to hear your thoughts.
Leave me a comment or reply to my email and let me know. Do you see these works as depressingly dark or just quiet and intimate?