Reading blogs this morning, I came across this question on Grace Carol Bomer's blog: "Are you a person that prefers to believe in things that always make sense/things that you can see? Or are you a person that prefers to believe in miracles/take things on faith? There are no right or wrong answers–just an opportunity for introspection." . The question was inspired by the movie "Life of Pi."
This got me to thinking about recent changes and questions in my artwork. In all of my paintings, the story or narrative is the spark. Recently I've been experimenting with stories of imagination, miracles, things unseen. I still return to paint things that make sense, things as I see them. I've felt a bit schizophrenic in my productivity, but moving back and forth between realism and abstraction has felt as natural to me as sampling both fiction and non-fiction. I normally prefer fiction. How about you?
Last night I finished reading Wild, Cheryl Strayed's memoir of her solo hike on the Pacific Crest Trail. It was a story of faith, courage and spirit, told with humor and honesty. One of the many things that touched me upon finishing the book was the Acknowledgements section at the end. When we finish a painting, artists don't have a card below that painting thanking the many people who helped in small ways to bring that painting into being. I think my next post may focus on Acknowledging some of those people!
Here are a couple of shots from a Plein Air outing yesterday at Minto-Brown park. I met some folks whose work I have followed online, and other new painters. It was a great way to get out of the studio and make new art friends! Thanks to Randall Tipton for organizing the outing. The location was beautiful, wild and mossy, and it was one of our few mild days, no wind and the rain held off till we were finished painting. Temperatures in the upper 50's made it possible to get the two paintings above nearly finished. Let me know what you think…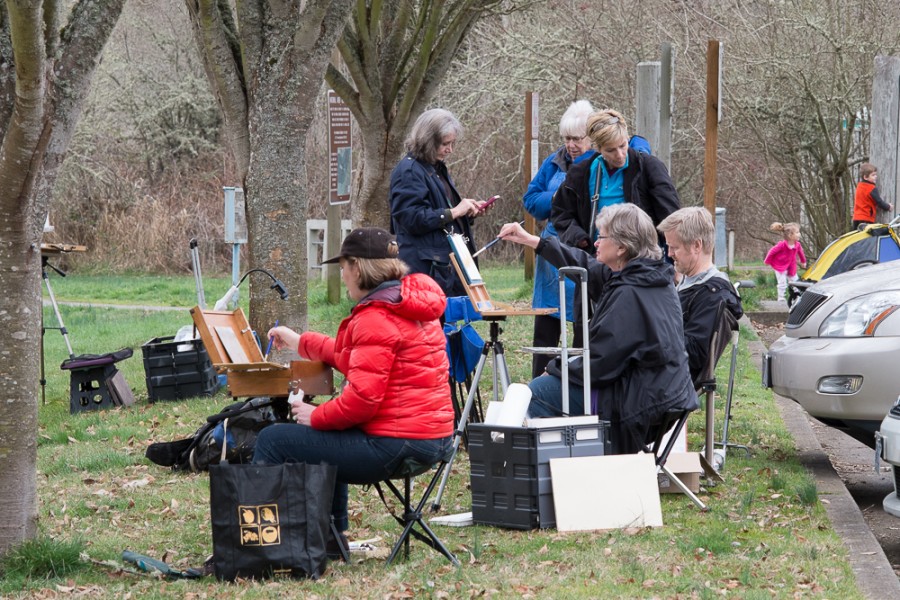 Thanks to Celeste Bergin and Dave for documenting some of the day!