Today's Dictionary.com word of the day was Tohubohu. It fits this house to a 'T!' Tohubohu (noun) means chaos, disorder and confusion.
I'm still in the throes of unpacking – haven't found the toaster, trying to figure out a new desk situation, making room for lots of paintings, rearranging furniture and organizing cabinets.
In art news I'm hoping my painting will return from the TWSA (Transparent Watercolor Society of America) show with its award! I want it to arrive at our new home, not our old. I'm praying that the new label I sent has been used, not the old one!
It's always a thrill to win an award, and this show is particularly competetive.
I'll be bringing lots of paintings here from storage at my Father-in-law's this weekend. I'm hoping to install a hanging system in the new studio (still have to order it!) I also want to install more storage drawers. I really like the Elfa system I used in my old studio. I'm working on ordering that.
Moving creates chaos!
The tohubohu comes in when you see that many items have been removed from boxes but not put away yet. I'm searching for a few very necessary items: my passport, the dog's nail clippers, my soda-stream…. I'm sure they will eventually turn up.
If you'd like to see more fun art vocabulary words, check out these posts from the archives:
https://rutharmitage.com/pareidolia-in-abstract-art/
https://rutharmitage.com/avoiding-ungapatchka/
Tohubohu also inpired one of my newest paintings. I finished it in between moving out of our old place and into the new.
I was trying to capture the feeling of the rapids on the Wild & Scenic Rogue River called Mule Creek Canyon. Several years ago I got tossed out of my kayak there and found complete tohubohu! I didn't know which way was up! Thankfully a trusty river guide from Orange Torpedo Trips fished me out of the water and saved my bacon. Exciting times!
I'm itching to travel and have some trips coming up. If you are too, check out the next opportunity! We will be a very intimate group, so lots of personal attention and fun to be had. I hope you can join us!
Domaine du Haut Baran, Lot Valley, France October 2021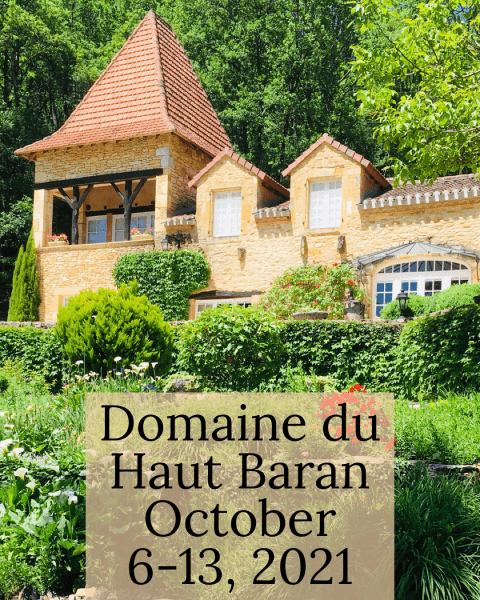 If you're like me, when you plan a trip to a foreign country you would like to avoid following the masses of folks who get all their information from a guide book. You'd like to sample a taste of what residents of the area do for fun, get to know a bit of history, and dine in out-of-the-way bistros without having to struggle over a menu.

But language can be a barrier. And how were you to know that yesterday was a special music festival (antique fair, farmer's market, etc.) in that little village? If only you'd had a bit of inside knowledge! And what is the best time to visit that can't-miss-it attraction? Where might you stop to eat? What are the best plein-air painting locations? Click below to find out why this trip will have you pinching yourself!

"

The trip with the art group to southern France was wonderful! It was a highlight in my life!




I am so happy I got to go! I never thought I'd get to go to Europe, and it was a fantastic way to do it!




Thank you for making that workshop available!"

-Cindy, participant 2019

"I loved our trip in so many ways and really, really thank you for wondrous instruction and for setting such a tone of joy and ease."
– Leslie, participant 2019